EURJPY continue to trade within the falling channel as seen in the daily chart. EUR is down today after the ECB President Mario Draghi stated that the reason of low inflation rate are energy concerns and added that the euro area economy will continue to recover moderately or unevenly for a while. He also said that the Inflation is expected to remain low in the upcoming months and the bank will remain committed to unconventional measures if the outlook deteriorates. On the other hand Japanese Yen is gaining strength as investors are showing concerns over the Ukraine and Russia geopolitical conflicts.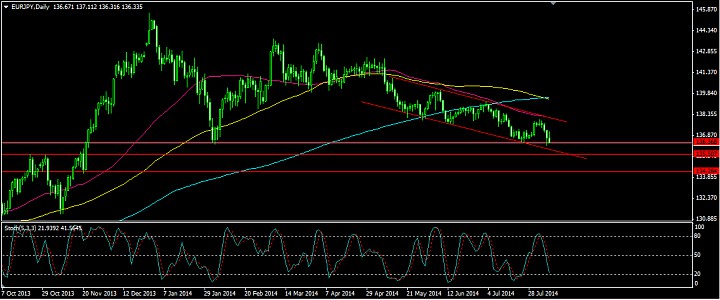 EURJPY : Daily Chart
On the daily chart the pair is currently testing the key support at 136.36 and might rise from this level. However if it continues to decline it might either rise from this trend line or find the next support at 135.50 or 134.28. The 100 day SMA just crossed below the 200 day SMA which is signaling that the pair will continue to decline.