On Jul 7, we issued an updated research report on the premium industrial goods firm, RBC Bearings Inc. ROLL.
Over the last three months, RBC Bearings' shares yielded a return of 6.82%, outperforming 6.64% growth recorded by the Zacks categorized Machinery-General Industrial industry.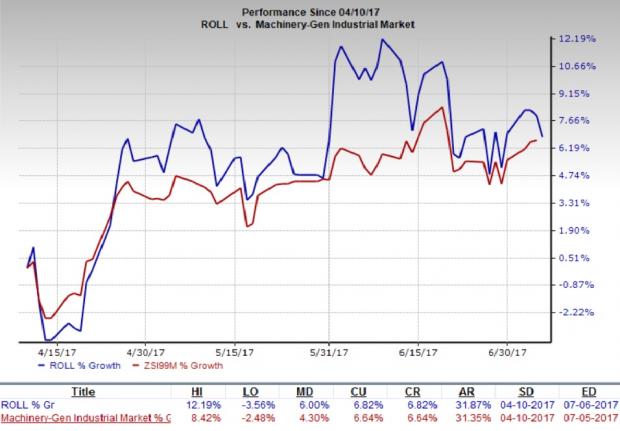 Inside Story
Solid demand from semiconductor and other industrial end markets are likely to bolster RBC Bearings' revenues in the quarters ahead. Moreover, increased military engagement strategies and new federal budget initiatives are anticipated to boost near-term demand in the company's aerospace and defense markets. Notably, it projects to report first-quarter fiscal 2018 revenues within the $159–$161 million range, higher than $154.8 million net sales reported in first-quarter fiscal 2017.
Additionally, RBC Bearings believes that the successful integration of the Sargent business (acquired in Apr 2015), as well as a robust top-line performance will likely enhance its near-term profitability. The company estimates Sargent's buyout to add nearly $7.5 million synergies over the next five years, following the closure of the deal in 2015.
RBC Bearings also intends to lower its debt burden, introduce share buyback programs and fund growth-oriented investments with increased cash flow generation, moving ahead.
Over the last 30 days, the Zacks Consensus Estimate for the stock remained unchanged for both fiscal 2018 and 2019, reflecting neutral market sentiments. We believe that certain headwinds in the market might limit the benefits accrued by the above-mentioned growth drivers.
For instance, dismal oil prices are directly hurting oil companies' sales, in turn significantly reducing the extent of Greenfield investments made within the sector. As a result, lower investments made by oil companies are thwarting the sales generated by producers of heavy equipment, machinery parts and steel in the U.S. like RBC Bearings.
Moreover, RBC Bearings generates a portion of its revenues from international operations. Although providing geographical diversity, international businesses expose the company to foreign currency translations and other geopolitical risks. For instance, the appreciating U.S. currency is enhancing the competitive power of the smaller companies operating in low-cost nations, thereby increasing revenue and margin loss risks for RBC Bearings.
Stocks to Consider
Some better-ranked stocks in the industry are listed below:
Colfax Corporation CFX has an average positive earnings surprise of 9.45% for the last four quarters and currently carries a Zacks Rank #2 (Buy). You can see the complete list of today's Zacks #1 (Strong Buy) Rank stocks here.
AGCO Corporation AGCO carries a Zacks Rank #2 at present and has an average positive earnings surprise of 40.39% for the trailing four quarters.
Altra Industrial Motion Corp. AIMC also holds a Zacks Rank #2 and has an average positive earnings surprise of 15.93% for the past four quarters.
Will You Make a Fortune on the Shift to Electric Cars?
Here's another stock idea to consider. Much like petroleum 150 years ago, lithium power may soon shake the world, creating millionaires and reshaping geo-politics. Soon electric vehicles (EVs) may be cheaper than gas guzzlers. Some are already reaching 265 miles on a single charge.
With battery prices plummeting and charging stations set to multiply, one company stands out as the #1 stock to buy according to Zacks research.
It's not the one you think.
Want the latest recommendations from Zacks Investment Research? Today, you can download 7 Best Stocks for the Next 30 Days.
Click to get this free report
AGCO Corporation (AGCO): Free Stock Analysis Report
Altra Industrial Motion Corp. (AIMC): Free Stock Analysis Report
Colfax Corporation (CFX): Free Stock Analysis Report
RBC Bearings Incorporated (ROLL): Free Stock Analysis Report
To read this article on Zacks.com click here.