Federal Realty Investment Trust FRT reported third-quarter 2017 funds from operations ("FFO") per share of $1.50, beating the Zacks Consensus Estimate of $1.47. The figure also came in higher than the prior-year quarter tally of $1.41.

Results were backed by growth in revenues. The company narrowed its guidance for full-year 2017.

Total revenues for the quarter grew 8.3% year over year to $218 million. Moreover, the top line surpassed the Zacks Consensus Estimate of $212 million.

During the reported quarter, Federal Realty signed 90 lease deals for 424,492 square feet of retail space. As of Sep 30, 2017, the company's overall portfolio was 94.9% leased, compared to 94.3% as of Sep 30, 2016.
Federal Realty Investment Trust Price, Consensus and EPS Surprise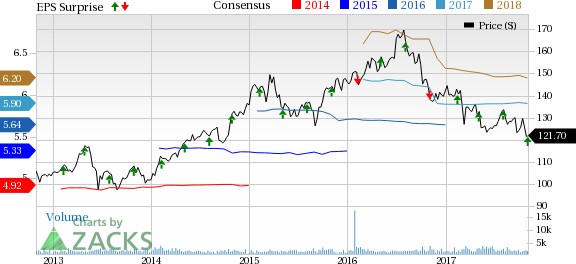 Federal Realty Investment Trust Price, Consensus and EPS Surprise | Federal Realty Investment Trust Quote
Note: The EPS numbers presented in the above chart represent funds from operations ("FFO") per share.

Quarter in Details

On a comparable-space basis (spaces for which a former tenant was there), Federal Realty leased 399,619 square feet, at an average cash-basis contractual rent escalation of 14%. Rent increases (on a straight-line basis) for comparable retail space averaged 27% for third-quarter 2017.

Same-center property operating income (including redevelopments) improved 4.4% year over year. However, excluding such properties, same-center property operating income improved 2.6%. As of Sep 30, 2017, Federal Realty's same-center portfolio was 96% leased, increasing from 95.7% in the year-ago period.

Federal Realty exited the third quarter with cash and cash equivalents of approximately $22.9 million, decreasing from $23.4 million at the end of 2016.

Outlook 2017

For 2017, Federal Realty narrowed its FFO per share guidance to $5.89-$5.92 from the previous guidance range of $5.86-$5.94. The Zacks Consensus Estimate for the same is currently pegged at $5.90, which is within the company's guided range.

Dividend Update

Concurrently, Federal Realty announced a quarterly cash dividend of $1.00 per share. The dividend will be paid on Jan 16, 2018 to shareholders on record as of Jan 2.

Our Take

We are encouraged with the better-than-expected performance of Federal Realty in the reported quarter. The company's portfolio of premium retail assets – mainly situated in the major coastal markets from Washington, D.C. to Boston, San Francisco and Los Angeles – along with a diverse tenant base, positions it well for decent growth.

Nevertheless, mall traffic continues to dwindle amid a rapid shift in customers' shopping preferences, with non-store sales rising significantly. This has become a pressing concern for retail REITs like Federal Realty. Furthermore, though anchor-repositioning strategies are a strategic fit in the long run, short-term impacts on earnings cannot be bypassed.

Currently, Federal Realty carries a Zacks Rank #3 (Hold). You can see the complete list of today's Zacks #1 Rank (Strong Buy) stocks here.

Let us now look forward to the earnings releases of Condor Hospitality Trust Inc. CDOR , Apple Hospitality REIT, Inc. APLE and Hospitality Properties Trust HPT , which are expected to report their quarterly figures in the upcoming days.

Note: FFO, a widely used metric to gauge the performance of REITs, is obtained after adding depreciation and amortization and other non-cash expenses to net income.

Zacks' Best Private Investment Ideas

While we are happy to share many articles like this on the website, our best recommendations and most in-depth research are not available to the public.

Starting today, for the next month, you can follow all Zacks' private buys and sells in real time. Our experts cover all kinds of trades… from value to momentum . . . from stocks under $10 to ETF and option moves . . . from stocks that corporate insiders are buying up to companies that are about to report positive earnings surprises. You can even look inside exclusive portfolios that are normally closed to new investors.

Click here for Zacks' private trades >>
Want the latest recommendations from Zacks Investment Research? Today, you can download 7 Best Stocks for the Next 30 Days.
Click to get this free report
Federal Realty Investment Trust (FRT): Free Stock Analysis Report
Hospitality Properties Trust (HPT): Free Stock Analysis Report
Condor Hospitality Trust, Inc. (CDOR): Free Stock Analysis Report
Apple Hospitality REIT, Inc. (APLE): Free Stock Analysis Report
To read this article on Zacks.com click here.
Zacks Investment Research