It looked as if Valeant Pharmaceuticals International, Inc. (VRX) would coast past $30 and head back to the $40's. Short-term headwinds undermine this rosy story.
A criminal investigation on the company took the wind out of Valeant's rally. While this adds uncertainty for the stock, the former CEO and executive management may face charges. Valeant itself has a new boss. Most of the executive team is new.
Last quarter too good to be true
Valeant reported lower revenue but offset the negativity by re-affirming its forecast. Unfortunately, investors did not question VRX's use of non-GAAP results. VRX should use GAAP to more accurately reflect its M&A (merger and acquisition) activities. The ~ $800 million GAAP to non-GAAP difference reflects money it used in buying new businesses. VRX's goodwill write-down will have a big impact on the GAAP figure, though this has no impact on cash flow.
<!== INSTRUMENT %% ==!>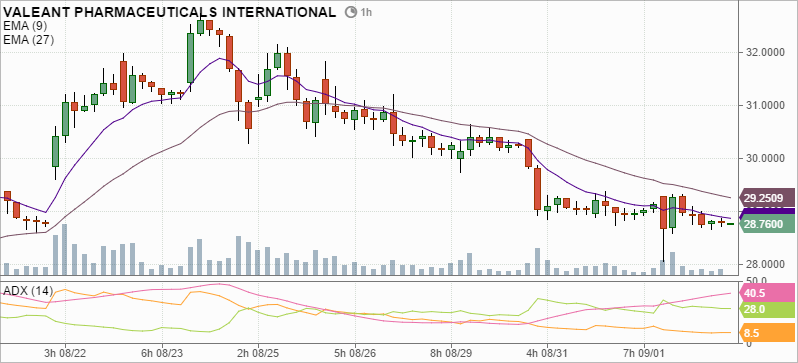 Higher liquidity
Valeant's looser covenants agreed upon on August 9 should give the company some breathing room to work out its turnaround. The company will pay lenders 50 basis points more on its debt. In return, lenders must ease up on asset sale requirements.
Per posted by Fidelity, Valeant's debt schedule is:
$1.35 billion 

revolving line of credit

$1.424 billion A-3 tranche A term loan
$835.6 million A-4 tranche A term loan
$1.053 billion D-2 tranche B term loan
$808.9 million C-2 tranche B term loan
$2.45 billion E-1 tranche B term loan
$3.88 billion F tranche B term loan as ofJune 30
$19.26 billion of senior notes
Vote of confidence
Fidelity is reversing course on Valeant. In the second quarter, the company doubled its ownership in the stock to around 15 million shares. In the first quarter, Fidelity held 4.45 million shares. With this buy, expect Valeant's stock to make another run past $29 and back above $30.