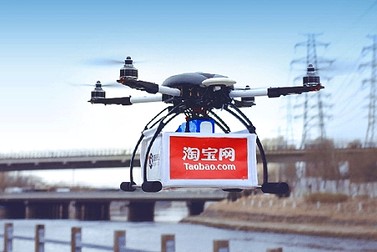 Alizila.com
A Taobao drone tests air delivery for the Alibaba e-commerce site

In a move possibly meant to catch up with foreign counterparts such as Amazon, Alibaba Group's Taobao — the largest online-shopping website in China — has tested using drones to deliver goods.
The company is offering the trial service, which is free of charge, from Wednesday to Friday to 450 Taobao buyers of ginger black tea, costing 49 yuan ($7.80) per box, according to Alibaba's corporate news site Alizila.
The trial took place in Beijing, Shanghai, and Guangzhou, the three largest cities in mainland China, while the drones were provided by Shanghai YTO Express Logistics Co., Alibaba's Alizila said.
The first box of ginger tea was delivered by a drone in Beijing on Wednesday, with the course navigation pre-set on the drone's GPS. It took off from a branch of the express company in a Beijing suburb and buzzed the city before arriving at its destination, a video on the Alizila site showed.
The first flight took 37 minutes in total, the First Financial Daily reported Thursday.
Laura He