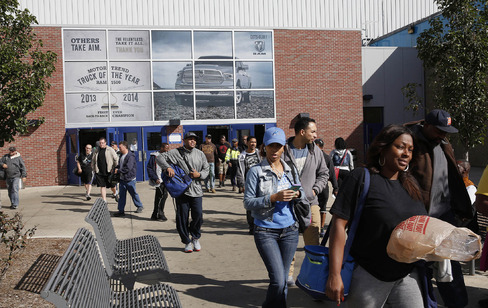 Fiat Chrysler Automobiles NV and the United Auto Workers averted a strike that would have sent the union's 40,000 members walking off the job.
The UAW's bargaining committee made "significant gains" in reaching a tentative agreement, the union announced on its website, saying it would make details available pending the results of a vote Friday. Fiat Chrysler confirmed the accord Thursday in a statement and said it can't discuss specifics.
"We heard from our members, and went back to FCA to strengthen their contract," UAW President Dennis Williams said in the union's statement. "We have made real gains and I look forward to a full discussion of the terms with our membership."
A strike would have disrupted Fiat Chrysler's production amid the company's streak of 66 consecutive U.S. monthly sales gains and clouded an auto industry that has been a rare bright spot in U.S. manufacturing, with deliveries on pace for the best year in more than a decade. A walkout may have prevented the UAW from moving on to...
More