Irving, TX-based ExxonMobil Corporation XOM is the world's largest publicly traded oil company, engaged in oil and natural gas exploration and production, petroleum products refining and marketing, chemicals manufacture, and other energy-related businesses. The company divides its operations into three segments: Upstream, Downstream and Chemicals.
Currently, ExxonMobil has a Zacks Rank #4 (Sell) but that could change following its second quarter 2017 earnings report which has just released. You can see the complete list of today's Zacks #1 Rank stocks here.
Coming to earnings surprise history, the company has a track record of delivering positive earnings surprises. It has beaten estimates in three of the last four quarters with an average positive earnings surprise of 1.46%.
We have highlighted some of the key quarterly details from the just-released announcement below:
Earnings: ExxonMobil misses on earnings. Earnings per share came in at 78 cents, below the Zacks Consensus Estimate of 83 cents.
Price Movement: Following Q2 earnings miss the company fell almost 2% in the premarket trading.
Revenue: Revenues beats expectations. Revenues of $62,876 million were higher than the Zacks Consensus Estimate of $61,157 million.
Key Stats: Production averaged 3.922 million barrels of oil-equivalent per day (MMBOE/d), in-line with the year-ago quarter. Liquid production fell slightly year over year to 2.269 million barrels per day. However, natural gas production was 9.920 MMCF/d (millions of cubic feet per day), up almost 2% from the year-ago period.
Check back later for our full write up on this ExxonMobil's earnings report later!
Exxon Mobil Corporation Price and EPS Surprise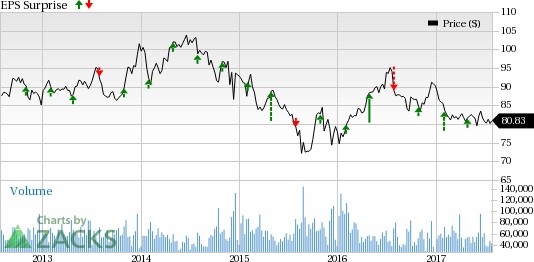 Exxon Mobil Corporation Price and EPS Surprise | Exxon Mobil Corporation Quote
The Hottest Tech Mega-Trend of All
Last year, it generated $8 billion in global revenues. By 2020, it's predicted to blast through the roof to $47 billion. Famed investor Mark Cuban says it will produce ""the world's first trillionaries,"" but that should still leave plenty of money for regular investors who make the right trades early.
See Zacks' 3 Best Stocks to Play This Trend >>
Want the latest recommendations from Zacks Investment Research? Today, you can download 7 Best Stocks for the Next 30 Days.
Click to get this free report
Exxon Mobil Corporation (XOM): Free Stock Analysis Report
To read this article on Zacks.com click here.
Zacks Investment Research