George Soros, the 85-year-old billionaire who broke the Bank of England in 1992, is becoming more involved in day-to-day trading at his family office, taking a series of big, bearish bets.
Soros is best known for netting $1 billion as a hedge fund manager decades ago when he and his then-chief strategist Stan Druckenmiller wagered that the U.K. would be forced to devalue the pound. His predictions haven't always played out so well.
Anticipating weakness in various global markets, his Soros Fund Management cut its publicly disclosed U.S. stock holdings by 37 percent in the first quarter while buying shares of gold miners and an exchange-traded fund tracking the price of the precious metal.
Since then, the S&P 500 Index has returned 3.1 percent. Barrick Gold Corp., his largest new position disclosed in the quarter, fared better, jumping 44 percent.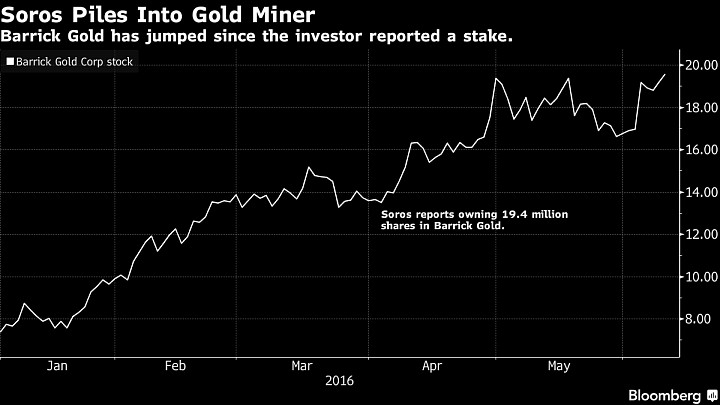 Here's a look at some recent calls by Soros, whose personal fortune is estimated at $24.7 billion, and some of the other trades made by his family office in the past few years:
China Uncertainty
Soros has been worrying about China since at least 2013, expressing increasing concern that the country's leaders might not be able to manage an economic slowdown.
Earlier this year, he compared China's economy to the U.S. in 2007-08, pointing to debt-fueled growth that's produced uncertainty and instability in the country's banking system.
"Most of the money that banks are supplying is needed to keep bad debts and
loss-making enterprises alive," Soros said on April 20 at an Asia Society event in New York.
More defaults may be looming in the...
More