Investors are wagering that India's biggest bank and its largest mortgage lender will pursue a megamerger that would deliver returns unmatched by any peer worldwide.
Shares of HDFC Bank Ltd. (HDFCB) and its potential partner Housing Development Finance Corp. (HDFC) have climbed since July, when India's central bank eased lending and reserve regulations. A merger "seems inevitable," according to research firm Ambit Capital Pvt., after India issued new rules that will allow Housing Development to maintain a lucrative exemption from reserve requirements.
A merger would allow HDFC Bank to offer financial services to 4.8 million home-loan customers gained from the combination, while deposits at its 3,500 branches could help fund rising demand for mortgages. The new entity would boast the largest capital buffer of any major bank, according to UBS AG, while Credit Suisse Group AG says it would deliver a 22 percent return on equity. That's better than all similar-sized rivals.
"Theoretically, it will be a unique bank," Ravikant Bhat, an analyst at SBI Capital Markets Ltd. in Mumbai, said by phone. "It will be a bank with high capitalization and very high return on equity."
Housing Development today rose as much as 1.7 percent, headed for the biggest gain in more than four weeks, before trading up 1 percent at 1,045.80 rupees at 9:26 a.m. in Mumbai. HDFC Bankclimbed 0.6 percent to 862.25 rupees.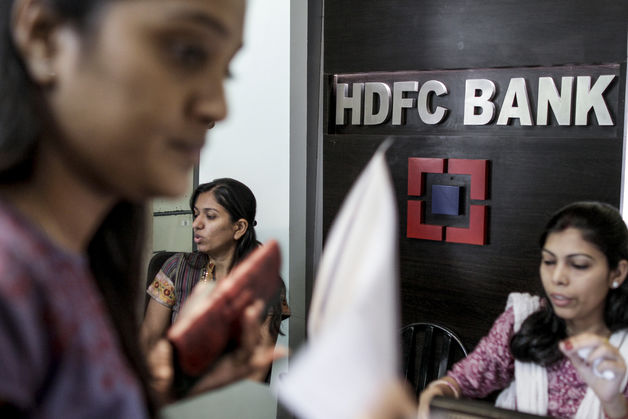 Merging the two companies would cement a relationship that began two decades ago with HDFC's incorporation.
HDFC Comments
HDFC Bank Deputy Managing Director Paresh Sukthankar said in July that the bank would reassess a merger in light of the new rules. The following month, HDFC Bank Managing Director Aditya Puri said no proposal was "on the table." Neeraj Jha, a representative for the $34 billion bank, reiterated Puri's statement when asked for further comment this week.
"There are some regulatory issues, some of which have been sorted out, some of which haven't," Jha said. "As and when it makes sense we will look at it."
A representative for Housing Development, valued at $27 billion yesterday, had no immediate comment.
Indian Prime Minister Narendra Modi and Finance Minister Arun Jaitley have made improving domestic infrastructure and housing a priority in a push to lift economic expansion. Last quarter, India grew at the fastest pace in more than two years.
Easier Mortgages
In July, the Reserve Bank of India announced a rule change that applies to banks selling long-term bonds to raise funds that can be lent to buyers of cheap homes. Those bonds would be exempt from a requirement to hold balance-sheet reserves of about 26.5 percent of net liabilities. The exemption is being phased in before taking full effect in 2020.
As a home-loan provider rather than a bank, Housing Development isn't subject to those reserve requirements. A merger with HDFC Bank under the old rules would have created a larger bank that was subject to the regulation, which would have eroded Housing Development's profitability "significantly," Morgan Stanley said in a report last month.
In a merger, the two Mumbai-based companies could feed off each other's customers and the combined balance sheet would more easily meet rising demand for credit, said Pritesh Bumb, a Mumbai-based analyst at Prabhudas Lilladher Pvt.
"It will have much more market share, the bank will have a home-loan portfolio, which it never had, and those customers can be tapped by the bank," Bumb said by phone.
Market Indications
Housing Development, which owns about 23 percent of HDFC Bank, set up the bank in 1994, when India's central bank opened up the market to private participation. A merger would create India's second-largest bank by assets, behind State Bank of India. It could have a market value of $52 billion, said Morgan Stanley. HDFC Bank is currently the nation's sixth-largest lender by assets and the biggest by market capitalization.
Before today, HDFC Bank and Housing Development shares had each climbed about 5 percent since the rule change. While that reflects both their earnings and broader investor appetite for Indian shares, speculation about a merger has also driven the stocks higher, Adrian Lim, a fund manager inSingapore at Aberdeen Asset Management Asia Ltd., said by phone.
A combination would allow Housing Development to reduce its funding costs by using HDFC Bank's customer deposits to finance its mortgage business instead of debt, Morgan Stanley analysts led byAnil Agarwal said in an Aug. 5 report.
Existing Links
For HDFC Bank, the merger probably would help it attract deposits from Housing Development's mortgage clients, Morgan Stanley said. HDFC Bank had outstanding loans of 3.12 trillion rupees ($50 billion) at the end of June 2014, and Housing Development had 2.03 trillion rupees.
"The bank has a huge branch network," Manish Agarwalla, a Mumbai-based analyst at Phillip CapitalIndia Pvt., said by phone. "If a customer is a mortgage customer with a bank, he tends to keep more balances in that bank."
The companies' existing relationship extends beyond Housing Development's stake in HDFC Bank. They share a brand and HDFC Bank already sells about 26 percent of Housing Development's mortgages, according to Credit Suisse analysts led by Ashish Gupta. About 80 percent of Housing Development's individual loans would qualify for the central bank's latest exemption, they said in their July 31 report.
The new entity's return on equity -- a measure of how efficiently a bank reinvests earnings -- would climb to 25 percent in 2018 from 22 percent in the year ending March 2015, they said. That's higher than any bank in the world with a market value of more than $50 billion, according to data compiled by Bloomberg.
Loan Benefits
Under central bank rules, Indian banks must direct at least 40 percent of their loans to priority sectors that include agriculture, housing and small businesses. They also are required to keep 4 percent of total deposits as cash reserves with the central bank, and 22.5 percent invested in mostlygovernment bonds to meet the statutory liquidity ratio.
According to Morgan Stanley's Agarwal, about half of Housing Development's individual loans would qualify as priority sector credit. That's good news for HDFC Bank, which would still have to meet that obligation in the event of a merger, said Agarwalla, the analyst at Phillip Capital.
Not everyone is sold on the merits of a potential deal. The costs far outweigh the benefits, analysts led by Pankaj Agarwal at Mumbai-based Ambit Capital, said in a Sept. 2 report. He says half of Housing Development's assets would still be subject to the reserve requirements, which would eat into profit margins. A merger also would wipe at least 263 billion rupees from the companies' combined market value, Agarwal said.
"There are no winners," he wrote.
Even Agarwal said that may not stop the companies from pursuing a deal. According to Bumb at Prabhudas Lilladher, a merger would bring greater borrowing flexibility, higher capital and more scope for loan growth.
"Over the medium term," he said, "all shareholders of the combined entity should benefit."