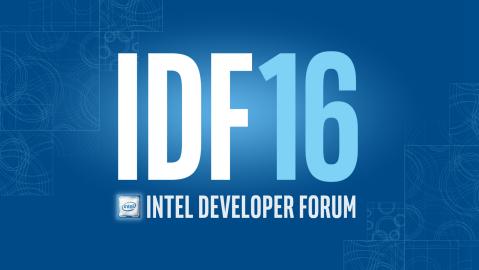 Intel Developer Forum Day One was interesting, but from what I saw there was a lot of hype pertaining to drone technologies that had very little relevance to investors. However, the explosion of data usage as a result of the Internet of Things evened out the presentation, as the storage market is set to expand given the high levels of data usage/storage capacity needed to realize some of these technologies at much larger scale.
Key summary points of IDF so far:
Intel showcased a cordless VR headset, which is referred to as Project Alloy. The cordless part was cool, and the implementation of immersion was substantially better than some competing products.
Microsoft announced a Windows 10 update, which is referred to as Windows Holographic Shell. The update will hit Windows 10 devices next year, and will create a unified ecosystem for all VR/AR headsets.
Intel announced its 7th generation Core series CPUs, which is codenamed Kaby Lake. It's worth noting that the rumor mill was spreading speculation on a delayed release to 2017. However, Krzanich denied those rumors and mentioned that Kaby Lake will release fall 2016.
Intel announced Euclid, which is a sensor box capable of integrating microelectromechanical machines, app processor, and microcontroller units into robotic systems, i.e. autonomous integration.
Intel announced a partnership with BMW to release industry standard classifications for autonomous implementation. BMW is anticipating the release of a fully-autonomous vehicle with level 3, 4 and 5 features by 2021. The timeframe actually sounds realistic.
Bryan Krzanich (CEO of Intel) mentioned that data consumption from edge of the cloud, big data analytics in consumer settings to drive massive wave of data consumption. Examples include autonomous cars, which are anticipated to process 4,000 GB/day in data. This is per car, whereas smartphones will consume 1.5 GB/day by 2020.
General Electric mentioned the potential for heightened use cases for technology that was awfully reticent of IBM's smarter planet initiative. The company stated that on premise data centers will be situated near industrial zones, and the usage of data in urban transportation could be transformative.
Intel announced Joule 550x, which is basically a miniaturized version of Euclid that has similar capabilities in micro consumer scale applications like eye glasses and tooth brushes. The implementation of Joule 550x is packaged into a system on chip. It's capable of processing sensory data, raw computation, and near field communication.
So, that's pretty much the break down on Intel's Day One presentation. I will be updating my blog with additional details over the next couple days.