The EUR/AUD has been bearish since February where it fell from a high on the year near 1.6250. It cracked 1.46 and even reached below 1.45 briefly in February before consolidating as we can see in the 4H chart.

EUR/AUD 4H Chart 4/7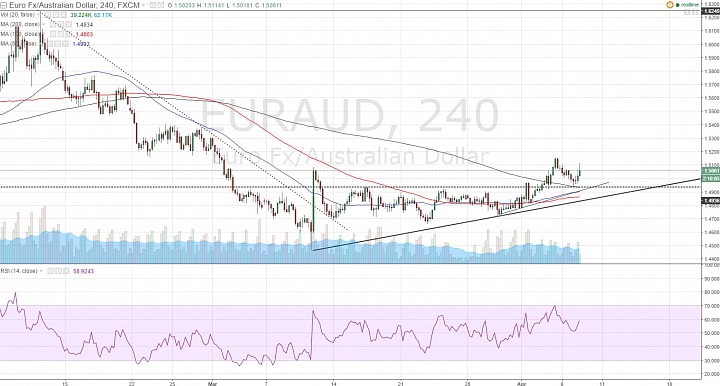 (click to enlarge)

After the multi-week consolidation, EUR/AUD started to drift upwards.
Bullish Signals:
1) In April it was able to break above the consolidation range.
2) Yesterday (4/6), price pulled back and was able to hold above the broken range. 
3) The market treated the cluster of moving averages as support after price crossed above them. This is a bullish sling shot signal.
4) The RSI tagged 70 showing ability to establish bullish momentum. 

The 1.53 and 1.54 resistance pivots seem to be viable targets in the short to medium-term (next couple of weeks or a month), with the current high at 1.5150 as a conservative short-term bullish target. Let's get more confirmation of a bullish trend before adding to the bullish target.