First Data Corporation FDC reported decent third-quarter 2017 results, matching the Zacks Consensus Estimate on earnings but beating the same on revenues.
Adjusted earnings of 40 cents per share were flat sequentially but up 17.6% year over year. Revenues of $1.9 billion beat the consensus mark by just $6 million and were up 3.1% sequentially and 4.7% year over year.
Shares increased 0.9% in the after-hours. Year to date, First Data shares have rallied 25.6%, outperforming the 11.1% gain of the industry it belongs to.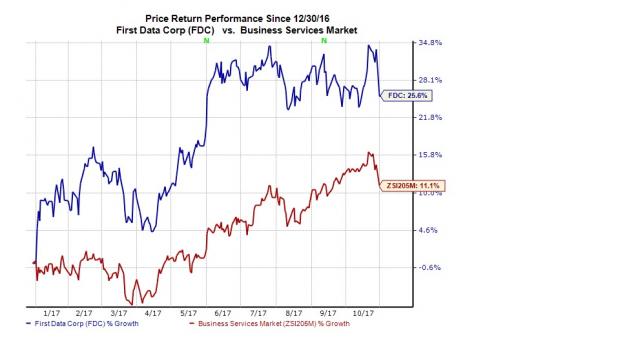 The year-over-year revenue growth was driven by strong enterprise business across all the segments. First Data continues to expand its enterprise business through client wins. In the third quarter, notable client wins included TeleCheck, Pinless Debit and other services for Fareporta.
The company differentiates itself in this space by consistently offering new features and solutions to existing clients and making continuous efforts to expand its client base. It continues to maintain its leading position in the bank acquiring channel through strategic partnerships.
The company is improving steadily on its SMB direct business, which is expected to boost its GBS North American business.
First Data completed the acquisition of peer payment processor and its longtime distribution partner, CardConnect Corp. in the third quarter. The acquisition added 25 basis points (bps) to the third quarter's organic constant currency revenue growth rate.
The Acculynk acquisition that closed early in the second quarter also contributed significantly. The state and local governments have closed a number of deals for business, licensing fee collection using Acculynk.
At the call, management sounded confident about strengthening the company's foothold in the independent software vendors (ISV) space, going forward, driven by contributions from acquisitions of CardConnect and BluePay (to be completed), strong growth in Clover platform, strength in enterprise business and international expansion.
Overall, we believe First Data's focus on globalizing its offerings, strategic partnerships, along with its healthy business around large and small banks will drive growth going forward.
Let's check the numbers in detail:
Consolidated Revenues
Consolidated revenues that include transaction and processing fees, product sales, reimbursable debit network fees, postage and other were $3.1 billion, up 5% year over year.
Revenues by Segment
Segmental revenues including that from Global Business Solutions, Global Financial Solutions and Network & Security Solutions came in at $1.9 billion up 5% year over year on a reported basis and 3% on an organic constant currency basis.
Global Business Solutions (GBS), Global Financial Solutions (GFS) and Network & Security Solutions (NSS) registered 57%, 22% and 21% of quarterly revenues, respectively. Seasonality results in considerable variations in First Data's quarterly revenues.
GBS increased 5% year over year on a reported basis and 2% on an organic constant currency basis driven by strong results across Europe, Middle East and Africa (EMEA), Asia Pacific (APAC) and Latin America regions.
GFS increased 5% year over year on a reported as well as organic constant currency basis. Strong performance across North America, EMEA, APAC and Latic America drove the results.
NSS increased 5% year over year on a reported basis driven by strength across Stored Value and Security and Fraud solutions.
First Data Corporation Revenue (TTM)
Operating Performance
Segmental EBITDA came in at $787 million, up 6% on a reported basis and 5% on an organic constant currency basis. Segment EBITDA margin of 41.3% improved 70 bps year over year. Excluding amortization of acquisition-related intangibles, restructuring costs, deal integration costs, stock-based compensation and other items, First Data reported adjusted net income of $373 million or 40 cents per share compared with $312 million or 34 cents per share in the year-ago quarter. The growth was primarily driven by strong operating results and lower interest expense.
Balance Sheet and Cash Flow
At the end of the third quarter, cash and cash equivalents balance was $502 million compared with $493 million in the previous quarter. Long-term debt was $17.8 billion compared with $18.0 billion in the previous quarter.
The company generated $581 million in cash from operating activities and spent $134 million on capex. Free cash flow in the quarter was $370 million, down 21.1% from $448 million, in the prior quarter.
Outlook
Reiterating its earlier guidance for full-year 2017, the company continues to expect segment revenues to grow 3–5% and segment EBITDA to improve 5–7%. Similarly, adjusted EPS is still expected to grow 15% while free cash flow will remain above the $1 billion mark.
Zacks Rank and Stocks to Consider
Currently, First Data has a Zacks Rank #4 (Sell).
Better-ranked stocks in the broader technology sector include Micron Technology, Inc. MU, NVIDIA Corp. NVDA and Vishay Intertechnology, Inc. VSH, all sporting a Zacks Rank #1 (Strong Buy). You can see the complete list of today's Zacks #1 Rank stocks here.
The long-term earnings growth rate for Micron, NVIDIA and Vishay is projected to be 10%, 11.2% and 20.6%, respectively.
Wall Street's Next Amazon
Zacks EVP Kevin Matras believes this familiar stock has only just begun its climb to become one of the greatest investments of all time. It's a once-in-a-generation opportunity to invest in pure genius.
Want the latest recommendations from Zacks Investment Research? Today, you can download 7 Best Stocks for the Next 30 Days.
Click to get this free report
First Data Corporation (FDC): Free Stock Analysis Report
NVIDIA Corporation (NVDA): Free Stock Analysis Report
Micron Technology, Inc. (MU): Free Stock Analysis Report
Vishay Intertechnology, Inc. (VSH): Free Stock Analysis Report
To read this article on Zacks.com click here.
Zacks Investment Research