Forget game theory, futurists, and cash-flow models: When it comes to product strategy in today's auto industry, things need not be so complicated.
Just make some trucks, and Americans will buy them—lots of them.
It helps, of course, if you make a very good truck. Honda did just that when it rolled out a thoroughly redesigned version of its Ridgeline pickup in June 2016. Trailing a string of strong reviews, the carlike pickup has been hugely popular among people who buy trucks, and even among those who don't.
"This is a very capable truck that meets the needs of a vast majority of buyers," says Jeff Conrad, general manager of American Honda Motor Co. "For somebody who doesn't care about towing 8,000 pounds ... it's perfect."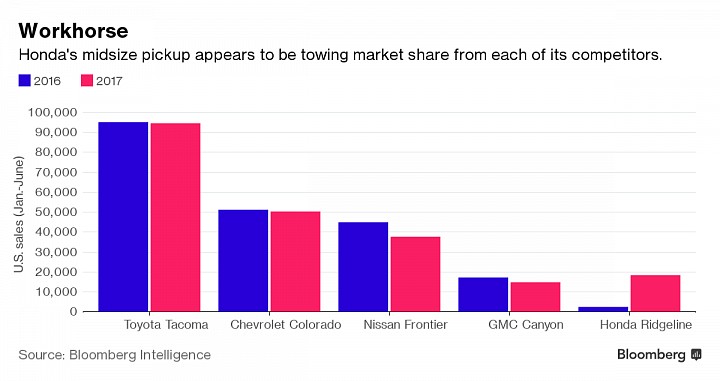 In the past 12 months, Honda has sold almost 40,000 Ridgelines in the U.S., accounting for one out of 10 vehicles in the midsize pickup segment. Not only did Honda swipe share from established rivals, but it appears to have brought in new buyers—drivers who traditionally were more inclined to buy an Accord than a Toyota Tacoma.
Conrad said Honda could have easily sold more trucks, but the Lincoln, Ala., plant where it welds them together is already operating at full capacity.
Of course, there's a big gap in these sales statistics. Ford, the heavyweight champion of the truck game, hasn't sold a midsize version in the U.S. since 2012. It didn't want to cannibalize the perpetually stellar sales of its full-size...
More