Several weeks ago, we observed that in the aftermath of the volatility surge in the late summer, NYSE short interest had soared to what was essentially the highest level on record, rising above 18.3 billion shares matching with the level reached just before the great financial crisis was unleashed in 2008.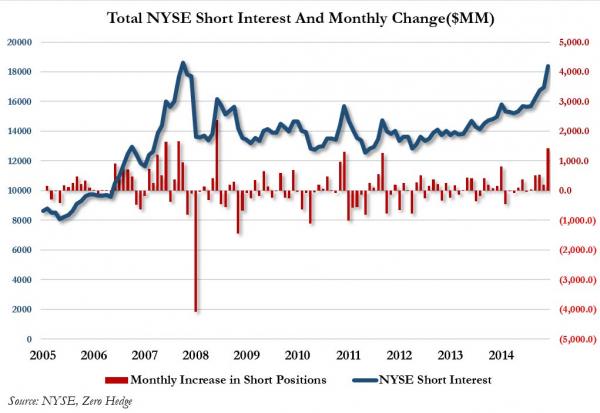 We said there are two ways of looking at this extreme in bearish sentiment:
Either a central bank intervenes, or a massive forced buy-in event occurs, and unleashes the mother of all short squeezes, sending the S&P500 to new all time highs, or
Just as the record short interest in July 2008 correctly predicted the biggest financial crisis in history and all those shorts covered at a huge profit, so another historic market collapse is just around the corner.
We concluded by saying that "the correct answer will be revealed in the coming weeks."
Indeed, just two weeks later, we got confirmation that the violent explosion in the S&P500 to the upside (rapidly approaching all time highs yet again), was "Not A Risk-On Rally, But The Biggest Short Squeeze In Years" one which was catalyzed by a plunge in the USD as conventional wisdom shifted violently (or whiplashed, as SocGen poetically said) from a rate hike (being good news) to a continuiation of zero interest policies (being even better news).
So where are we now?
According to a cross-border flow update by BofA "risk-on flows for the 2nd week, but the positioning squeeze has now run its course and the market is short USD for the year."
BofA's Athanasios Vamvakidis, who just ten days ago was channeling this website when he said that "We Should Have Known Something Was Wrong", adds the following detail:
The squeeze of long USD/short risk positions continued for a second week, according to our proprietary flows through Friday October 16 (Chart 1 and Heatmap 1). Hedge funds sold USD against high beta currencies in G10 and EM last week. Real money flows were mixed in G10, but mostly positive in EM.

 

 

This positioning squeeze should have now run its course. Both positioning analysis based on our proprietary flows and the CFTC data suggest that the market is now short USD and long risk for the year (Chart 2).

 

The EPFR data also reflected two-way flows in the week ending October 14. This evidence suggests more balanced risks looking forward.
His conclusion: "A further increase in risk appetite will depend on central bank action, starting with the ECB this week."
Which may be a problem considering that after Ewald Nowotny bulled up the market with constant talk of more imminent QE from the ECB, earlier today another ECB member, Frenchman Christian Noyer, said that QE is "running currently at the proper pace."
What a surprise: the S&P is well above 2000, VIX is trading with a 14-handle, and...  the central bankers promptly pull back all talk of boosting QE just like last October when none other than Fed hawk Bullard used exactly the same trick, followed in due course by all other central bankers around the globe.
So the ball is now in the BOJ and ECB's court, and while the jawboning has been again exhausted, the market has levitated to a level where no more QE is necessary (neither the BOJ nor the ECB want to be the central bank that expands QE knowing well it would limit the universe of available instruments to monetize even further) and in fact, the S&P is back at a level where financial conditions are loose enough to permit the Fed to once again launch its 25 bps hike!
What happens next may be a return to square one: In the coming weeks, Yellen (or her spokesman Jon Hilsenrath) will make a very distinct case that a December 2015 rate hike is once again on the table (especially when one considers that the CPI base effect in October and November will be finally be favorable and boost headline inflation) and catches the entire market wrongfooted once more, leading to another risk off swoon, which in turn will restart the whole process all over again.