If you're trying to secure millions of dollars in venture capital, these days it may be better to pitch your business as "marketing tech" rather than "ad tech."
It has become increasingly difficult for advertising technology companies to raise money in recent years, but funding for companies in the closely-related marketing technology sector appears to be as healthy as ever.
U.S. venture-capital firms invested around $860 million in ad tech firms last year, the lowest amount since 2010 and down considerably from a peak of more than $2.7 billion in 2011, according to venture capital and private equity data company PitchBook. So far this year, only $446 million has been committed, on pace for the lowest funding level since 2005.
But PitchBook data suggest U.S. venture capital investment for marketing technology companies has been steadier, reaching over $1.2 billion last year. Investment this year was already close to $1 billion by Aug. 23, according to PitchBook, on pace to surpass last year.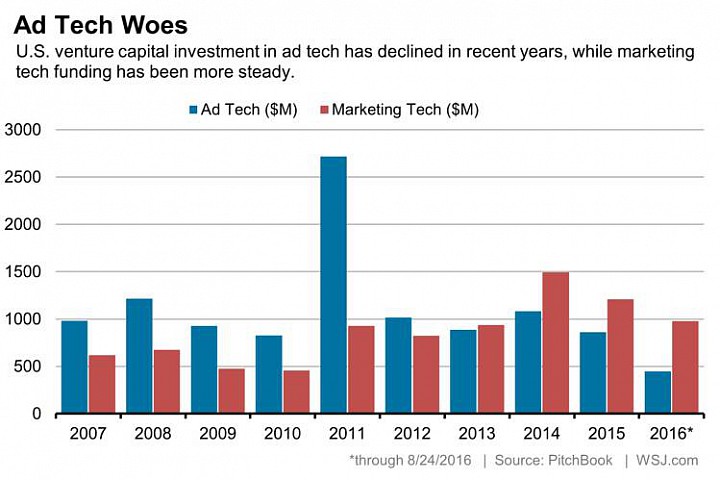 Why the divergence? One key factor is the business models that power these companies, venture capitalists say.
Advertising technology took off on the promise to automate the buying and targeting of ads across the web. Such companies have typically relied on "media-based" business models, whereby they collect revenue based on the volume of advertising they purchase and place on behalf of clients. They often sell to third parties in the ad ecosystem like marketers' ad agencies, as opposed to the marketers themselves.
By contrast, many marketing tech companies have instead focused on selling software on a subscription basis, often directly to marketers. The recurring and relatively predictable software-as-a-service revenue model is often more...
More