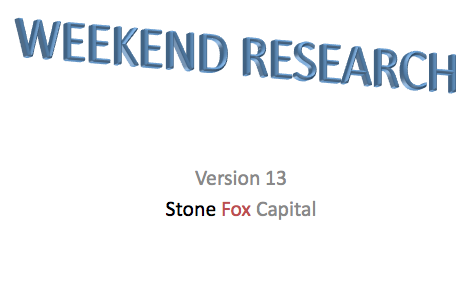 This version of the weekly Weekend Research series will focus on the financial sector that has perked up this month. The large financials like Bank of America (BAC) and Citigroup (C) have naturally perked up on talks of another rate hike while the fintechs finally appear to have hit bottom. 
BoA and Citigroup are in no mans land now. BoA has surged from a dip to nearly $12 to end July to almost reach $16 on Friday. The bank will no doubt benefit substantially from rate hikes, but the stock likely needs a pullback. The large financial remains highly profitable and still trades below TBV of $16.68. 
Citigroup has rallied in a similar manner from hitting a low of nearly $38 at the end of July to over $47 on Friday. The stock still offers the better value by far with TBV up at $63.53 per share. The financial as well is positioned to boost the BV calculations via profits and stock repurchases at below TBV prices. 
The fintech sector is still struggling to convince the market that the future is still as disruptive as predicted. As well, interest rate hikes will have an unpredictable impact on demand. High rates may slow down demand or it could increase the rates and attractiveness of the loan products.
LendingClub (LC) and OnDeck Capital (ONDK) remain cheap stocks. LendingClub has an enterprise value of only $1.2 billion. Considering the online lending platform had plans to top $700 million in revenues in 2017 before the recent CEO issue, the stock has a very appealing valuation, if the momentum is ever reclaimed. 
More recent posts on fintech:
LendingClub: Big Hires Signal Positive Future
The good news from another rate hike or two is that the Fed would get closer to a more normalized rate environment, thereby eliminating the need to obsess over more rate hikes unless the economy is truly growing too fast. Wait for the large financials to pull back though not too far as both BoA and Citigroup trade at or below 10x EPS estimates. Definitely look for an opportunity to own the fintechs at current prices. Either way, the market remains too negative on the financials now nearly 10 years since the financial crisis. 
Disclosure: Long C, LC, ONDK