First I want to highlight that you can watch my analyses and trade ideas also on TWITTER (@FlexibleTrader) and you can also watch my LIVE TRADES on YouTube (here). So be sure to check out MY TRADING STYLE in more details!
And now, back to my new blog post for this week…
The EURO/STERLING Cross Pair
from the long-term perspective has been in a very strong uptrend since 05/2000, when watching the monthly chart.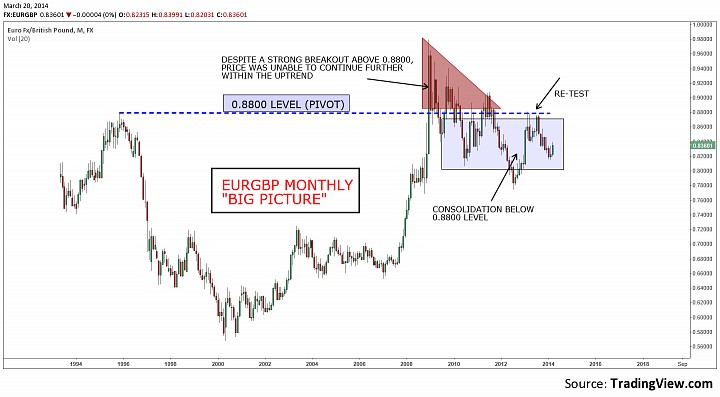 Well, this is a really LONG-TERM period for any current trading projections, but, however, it helps to identificate important levels and areas for potential buying/selling opportunities.
Undoubtly, the main level here is 0.8800. The price strongly breached this level and closed above in 12/2008. But then, somehow, the pair ran out of steam and the price fell back down below 0.8800 and started to channel down. Prior re-tests in February, March and July 2013 showed some weakness and unwillingnes of the price to go higher. But…
IS EUR/GBP REALLY WEAK NOW?
It might be, but from the very long-term period perspective, of course. When looking for trading opportunities in the near future, let us zoom in on the daily chart.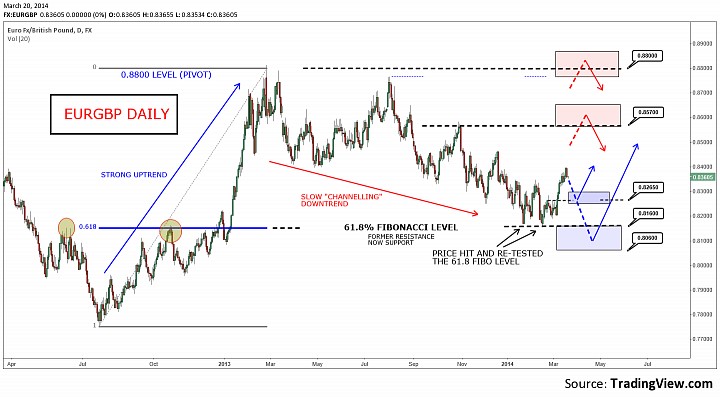 Have you read my prior blog posts (here)? If so, you may have noticed that I am a big proponent of Fibonacci ratios, especially 61.8%, which is a very important psychological level for all kinds of traders and investors. The fact is, that statistically it works as a major retracement level.
And when looking at the EUR/GBP daily chart, IT IS THERE!
In fact 0.8160 is the 61.8 Fibonacci retracement level of the prior upswing from 0.7750 to 0.8800. The price hit this level on 22th January 2014, re-tested the level on 17th February 2014 and bounced off of that level strongly to 0.8400. So …
WHAT ARE THE MAJOR POTENTIAL LEVELS/AREAS FOR TRADE OPPORTUNITIES?
BUYING OPPORTUNITIES
0.8160:  The best buy level, in my opinion. The price might re-test that level or might form a false-break of it. If the price closes decisevely below 0.8160, it is a sign of a further decline and I would not be interested in any longs there.

0.8265: A high potential buying level, which is a minor support and (switch to the 4H chart…)
SELLING OPPORTUNITIES
0.8570:  A high potential sell level, which is also a 61.8 Fibo retracement level of downswing from 02/2013
0.8800: A high potential sell level/area, which is a major long-term resistance, although quite far from now…
As usual, my trading idea is based on an uncoventional trading methodology used in our SMB Capital Forex and Futures Training Program.
For a deeper understanding you can join us on http://www.smbtraining.com/overview/forex-training
or you can watch my LIVE TRADING VIDEOS ON YOUTUBE.
In case of any questions or comments, be sure to send me an email or contact me via other social media as stated below.
Petr Suchanek
Forex, Futures & Options Trader
Email: psuchanek@smbcap.com
Twitter: @FlexibleTrader
StockTwits: http://stocktwits.com/FlexibleTrader
YouTube Channel: (here)
Training program: (here)