Zillow Group, Inc. ZG just released its third quarter 2017 financial results, posting earnings of $0.19 per share and revenues of $281.8 million. Currently, Zillow is a Zacks Rank #3 (Hold) and is up over 7% to $43.29 per share in after-hours trading shortly after its earnings report was released.
Zillow:
Beat earnings estimates. The company posted earnings of $0.19 per share, beating the Zacks Consensus Estimate of $0.17 per share.
Beat revenue estimates. The company saw revenue figures of $281.8 million, topping our consensus estimate of $276.8 million.
Zillow's third quarter revenues jumped 25% from the year-ago period, driven in large part by the company's gains in premier agent revenues, which climbed to a record $197.1 million.
Looking ahead, the company expects to post fourth quarter revenues between $274 million and $279 million. For the full-year, Zillow projects it will post revenues of around $1.07 billion.
For Q4, Zillow expects to post net income between $6.5 million and $11.5 million. However, for the full-year they project to lose as much as $10 million.
"Zillow Group delivered record revenue and profitability for the third quarter of 2017, driven by strong contributions from all of our marketplaces," CEO Spencer Rascoff said in a statement.
"It has been an exciting year for the company. We created several innovative products and further cemented our leadership position in the real estate category.
Here's a graph that looks at Zillow's Price, Consensus and EPS Surprise history:
Zillow Group, Inc. Price, Consensus and EPS Surprise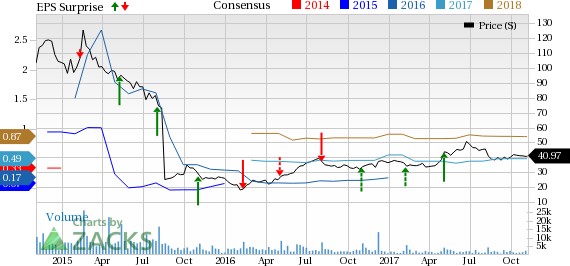 Zillow Group, Inc. Price, Consensus and EPS Surprise | Zillow Group, Inc. Quote
Zillow Group, Inc. provides real estate and home-related brands on the Web and mobile. The company focuses on home lifecycle which include renting, buying, selling, financing and home improvement. Its portfolio of consumer brands consists of Zillow(R), Trulia(R), StreetEasy(R) and HotPads(R). The company's business brands includes ActiveRain(R), Diverse Solutions(R), Market Leader(R), Mortech(R), Postlets(R) and Retsly(TM). Zillow Group Inc., formerly known as Zillow Inc., is headquartered in Seattle.
Check back later for our full analysis on Zillow's earnings report!
Zacks' Hidden Trades
While we share many recommendations and ideas with the public, certain moves are hidden from everyone but selected members of our portfolio services. Would you like to peek behind the curtain today and view them? Starting today, and for the next month, you can follow all Zacks' private buys and sells in real time. Our experts cover all kinds of trades: value, momentum, ETFs, stocks under $10, stocks that corporate insiders are buying up, and companies that are about to report positive earnings surprises. You can even look inside portfolios so exclusive that they are normally closed to new investors. Click here for Zacks' secret trade>>
Want the latest recommendations from Zacks Investment Research? Today, you can download 7 Best Stocks for the Next 30 Days.
Click to get this free report
Zillow Group, Inc. (ZG): Free Stock Analysis Report
To read this article on Zacks.com click here.
Zacks Investment Research