Urban Outfitters Inc. URBN just released its third quarter fiscal 2018 financial results, posting earnings of 41 cents per share and revenues of $893 million. Currently, URBN is a #3 (Hold) on the Zacks Rank, and is popping 5.4% to $29.69 per share in trading shortly after its earnings report was released.
Urban Outfitters:
Beat earnings estimates. The apparel retailer reported earnings of 41 cents per share, soaring past the Zacks Consensus Estimate of 33 cents per share. Net income was 45 million for the quarter.
Beat revenue estimates. The company saw record revenues of $893 million, coming in much higher than our consensus estimate of $857.48 million and increasing 3.5% year-over-year.
Urban reported total comparable retail segment sales, which includes its comparable direct-to-consumer channel, increase inly 1%. Breaking it down by brand—and excluding the estimated impact if the North American hurricanes in the quarter—Free People comps increased 5% and both Anthropologie and Urban Outfitters reported comps of 1%.
"I am pleased to announce record third quarter sales, positive Retail segment comps at all three brands and another strong performance from Free People wholesale," said Richard A. Hayne, Chief Executive Officer. "Record sales were driven by improved apparel execution across all channels and brands," finished Mr. Hayne.
Here's a graph that looks at Urban Outfitters' price, consensus, and EPS surprise:
Urban Outfitters, Inc. Price, Consensus and EPS Surprise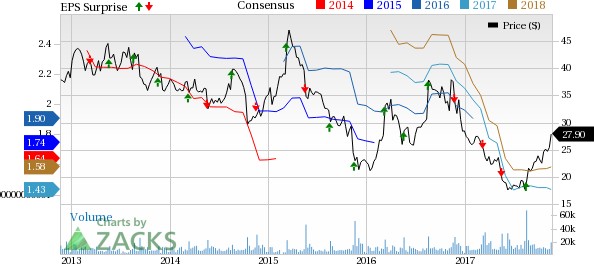 Urban Outfitters, Inc. Price, Consensus and EPS Surprise | Urban Outfitters, Inc. Quote
Urban Outfitters, Inc. operates two business segments consisting of a lifestyle-oriented general merchandise retailing segment and a wholesale apparel business. The retailing segment operates through retail stores and direct response, including a catalog and two web sites. The company's wholesale business designs and markets young women's casual wear which it provides to the company's retail operations and sells to specialty retailers worldwide.
Wall Street's Next Amazon

Zacks EVP Kevin Matras believes this familiar stock has only just begun its climb to become one of the greatest investments of all time. It's a once-in-a-generation opportunity to invest in pure genius. Click for details >>
Want the latest recommendations from Zacks Investment Research? Today, you can download 7 Best Stocks for the Next 30 Days.
Click to get this free report
Urban Outfitters, Inc. (URBN): Free Stock Analysis Report
To read this article on Zacks.com click here.
Zacks Investment Research