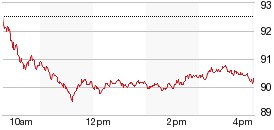 While GoPro (GPRO) fell 9% after reporting a first quarter loss off $0.63 on Thursday. The stock, which has fallen over 75% in the last year, remains vulnerable to a trend plaguing a broader range of tech companies: Lackluster hardware growth.
Demand concerns and market size question marks have pushed the stock to $11 per share, with looming worries that all hardware becomes commoditized, as Barclays pointed out in a recent note. With the pressure to create the "next best thing" for its Hero cameras remaining high, the company recently hired one of one of Apple's (AAPL) designer to help fuel innovation. But investors haven't cozied up to the company's new launches, and announcement to delay its drone adds further questions.
The dwindling bull calls for the stock focus on potential for software, which has historically garnered higher market multiples. The GoPro...
More