1.  Snow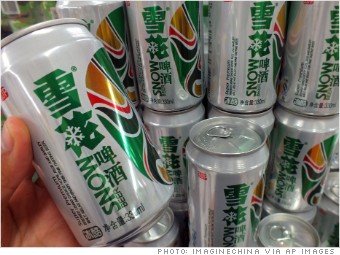 Chinese drinkers guzzled an incredible 10.3 billion liters of Snow in 2013, making it the world's No.1 beer.
Keen to try it? You'll have to jump on a plane to China -- the only country where Snow is sold.
Snow is produced by SABMiller and local partner China Resources Enterprise. Last year, the brand had 5.3% of the world market.
But before you buy a ticket to Beijing, consider the taste. Snow is a lager, and a prime example of the mostly flavorless -- but refreshing -- beer that dominates in Asia.
2.  Tsingtao
Tsingtao traces its roots to 1903, when a group of Germans and Brits settled in Qingdao, China.
The pilsner has been flowing ever since, and exports to the United States started in 1972.
Tsingtao (pronounced ching-dow) is the most international of Chinese beers, but has a very loyal following in its home country.
The city of Qingdao holds a beer festival each year, an event that gives Munich's Oktoberfest a run for its money.
3.  Bud Light
The first American entry in the top 10, Bud Light is the better-selling little brother of Budweiser.
Produced by Anheuser-Busch InBev, Bud Light boasted 2.6% of the world market last year. That translates to 5.1 billion liters of beer.
Beer aficionados find the brew lacks character, however. Bud Light has an "awful" rating on Beeradvocate.
4.  Budweiser
It says "King of Beers" on the can, but on this list, Budweiser is only No. 4.
The brand had a world market share of 2.2% last year, selling 4.4 billion liters.
Even when lumped in with Bud Light, the Bud brands sold only 9.5 billion liters in 2013 -- not enough to knock Snow off the top spot.
5.  Skol
Skol is yet another Anheuser-Busch InBev product -- but one that has little traction in the United States.
Instead, Skol is popular in markets like Brazil. It's also a common sight in Hong Kong.
In Brazil, it's aimed at younger drinkers. The Skol tagline is: "The beer that goes down round."
6.  Yanjing
The third entry from China is Yanjing Beer -- or, as its bottles claim, "the official state beer of China."
Given that China is the world's most populous country, perhaps it's no surprise that its beer brands dominate this list.
However, in many ways, China is just waking up to spirits and beer, driven by a growing middle class with money to spend.
Heineken got its start 150 years ago with a brewery in Amsterdam, the Netherlands.
Last year, beer drinkers consumed 2.8 billion liters of the stuff.
Heineken has made a number of acquisitions in recent years, and the company now produces Sol, Amstel and Strongbow cider.
8. Harbin
The city is probably best known for its annual ice sculpture festival -- but they also brew beer.
Harbin is now owned by Anheuser-Busch InBev, and produced 2.8 billion liters of beer last year.
It's the fourth -- and final -- Chinese brand in the top 10.
9.  Brahma
Brahma beer originated in Brazil in 1888. It's yet another member of the Anheuser-Busch InBev stable.
The beer and beverage colossus was created in 2008 from the $52 billion merger of Brazilian-Belgian brewer InBev and Anheuser-Busch, based in St. Louis.
10.  Coors Light
Molson Coors Brewing takes the last spot on this list. But Coors Light lags far behind Bud Light in the battle for U.S. light beer supremacy.
Coors Light first went on sale in the U.S. in 1978, but wasn't available nationwide until 1991.
Like most of the beers on this list, it earns an "awful" rating from the flavor nerds at Beeradvocate.
Source: 
http://money.cnn.com/