Sanofi SNY reported second-quarter 2017 earnings of 74 cents per American depositary share, which were in line with the Zacks Consensus Estimate. Earnings rose 3.1% on a reported basis and 1.5% at constant currency rates (CER).
Second-quarter net sales rose 6.4% on a reported basis and 5.5% at CER to almost $9.52 billion (€8.66 billion). Sales, however, missed the Zacks Consensus Estimate of $9.98 billion. Sales benefitted from favorable exchange rate movements of 0.9%.
In Jan 2017, the French drug maker swapped its Merial Animal Health businesses with Boehringer Ingelheim's Consumer Healthcare (CHC) business. Reflecting this exchange and full consolidation of Sanofi's European vaccines operations, sales rose 0.6% at constant structure and CER.
Sales declined 1% at CER in the U.S. as a strong performance of multiple sclerosis drugs and vaccines could not make up for weak diabetes performance. Sales rose 10.2% in Emerging Markets, 6.8% in Europe and 10.3% in the Rest of the World (Japan, South Korea, Canada, Australia, New Zealand, Puerto Rico) market.
All growth rates mentioned below are on a year-on-year basis and at CER.
Segmental Performance
Pharmaceuticals sales (including emerging markets) increased 3.2% to €7.65 billion driven by growth in multiple sclerosis and consumer healthcare franchises, which offset a decline in diabetes and generics sales.
Sanofi reports through five Global Business Units (GBUs) – Sanofi Genzyme (Specialty Care), Diabetes & Cardiovascular, General Medicines & Emerging Markets, Consumer Healthcare and Sanofi Pasteur (Vaccines).
Sanofi Genzyme/Specialty Care GBU sales (including emerging markets) increased 13.5% to €1.71 billion, driven mainly by strong uptake of multiple sclerosis drugs, Aubagio (up 32.7% to €425 million) and Lemtrada (up 13.9% to €124 million).
Meanwhile, sales of rare disease drugs like Myozyme/Lumizyme improved 10.4% to €203 million while Fabrazyme sales were €190 million, up 12%. Cerdelga sales came in at €31 million, up 19.2%. However, Cerezyme sales declined this quarter by 2% to €193 million due to difficult year-ago comparisons.
Oncology sales rose 4.4% to €383 million driven mainly by higher sales of Jevtana and Thymoglobulin. Jevtana sales were up 12.5% to €100 million while Thymoglobulin recorded sales of €76, up 8.7%. Taxotere sales declined 6.5% to €44 million due to generic competition in Japan. Eloxatin sales were flat at €45 million.
Sanofi and Regeneron Pharmaceuticals, Inc.'s REGN, rheumatoid arthritis (RA) drug Kevzara (sarilumab) was launched in the U.S. in June and approved in Canada in Feb 2017 and in the EU in Jun 2017. Kevzara recorded sales of €1 million in the second quarter.
Meanwhile, Dupixent, launched in March in the U.S. for treating atopic dermatitis, generated sales of €26 million in the second quarter. Management is pleased with the drug's uptake and said that in the U.S., the drug has been prescribed by over 5,100 physicians. Dupixent is under review in the EU and received positive recommendation from a European Medicines Agency panel earlier this month. The drugs generated total immunology sales of €27 million in the second quarter.
Diabetes and Cardiovascular GBU (including emerging markets) declined 10.7% to €1.77 billion. The Diabetes franchise (including emerging markets) declined 12.2% to €1.65 billion due to lower sales of key drug Lantus.
Sales of diabetes drugs in the U.S. declined 23% to €814 million due to a tough U.S. payer environment. Sales of diabetes drugs in Emerging Markets were up 8.4% while in Europe it declined 3%.
Lantus sales declined 19.2% to €1.20 billion in the quarter. Lantus sales declined 28.1% in the U.S. due to lower average net price and CVS/United Health formulary exclusion while in Europe sales declined 14% due to biosimilar competition and patient switching to Toujeo.
Toujeo generated sales of €210 million, up 9.4% sequentially in the reported quarter.
Management warned that U.S. diabetes franchise sales will decline faster in the second half due to exclusion from the CVS and United Health formulary plans and difficult comparisons from last year.
Soliqua, a once-daily titratable fixed-ratio combination of Lantus and Lyxumia, launched in the U.S. in Jan 2017, generated sales of €5 million in the second quarter compared with €4 million in the previous quarter.
In the cardiovascular franchise, Sanofi's anti PCSK9 therapy, Praluent garnered worldwide sales of €42 million in the reported quarter, up 23.5% sequentially. Incidentally Amgen, Inc. AMGN, which reported earlier this week, also reported a sequential increase in sales of its PCSK9 inhibitor, Repatha. Uptake of these drugs has not been very encouraging so far due to pricing and re-imbursement issues/payer restrictions.
General Medicines & Emerging Markets GBU sales came in at €3.66 billion, down 1.2%. Sales of Established products were €2.56 billion, down 2.3% as strong performance in emerging markets was offset by generic competition of Plavix in Japan (Plavix lost exclusivity in Japan in 2015) and lower sales in Europe.
Sales of Generics declined 8% to €442 million as sales declined in Europe, U.S. as well as Emerging Markets.
Consumer Healthcare GBU sales were €1.16 billion, up 42.5%. However, sales were flat excluding acquisition of Boehringer Ingelheim's Consumer Healthcare business, as lower sales in Europe due to an early cough and cold season in the first quarter were partially offset by higher sales in the U.S. (driven by the Pain and Allergy portfolios) and higher sales in Emerging Markets (due to a sales recovery in Russia).
Second-quarter consolidated Sanofi Pasteur (Vaccines) sales increased 26.2% to €1.02 billion due to the strong performance of pediatric combinations and Menactra. Vaccines sales reflect the termination of the Sanofi Pasteur MSD joint-venture with Merck & Co., Inc. MRK in Europe from Dec 2016.
Costs Rise
Selling general and administrative expenses (SG&A) increased 6.1% at CER in the quarter, reflecting launch costs of Dupixent, Kevzara and Xyzal. R&D expenses were up 5.1% at CER, reflecting higher pipeline development costs in oncology (isatixumab, PD-1) and sotagliflozin.
2017 Outlook
Sanofi raised its previously issued financial outlook.
Sanofi expects 2017 business earnings to be broadly flat at CER. This outlook compares favorably with the previous expectations of flat to down 3% at CER. It anticipates positive currency impact in a range of 1% on business earnings in 2017.
Our Take
Sanofi's second-quarter 2017 results were not that great as it reported in-line earnings and missed sales expectations by a slight margin. However, shares rose more than 2% in pre-market trading in response to the raised earnings forecast and the optimism surrounding Dupixent launch.
In fact, so far this year, Sanofi's share price has risen 17.6%, better than a 10.5% increase for the industry.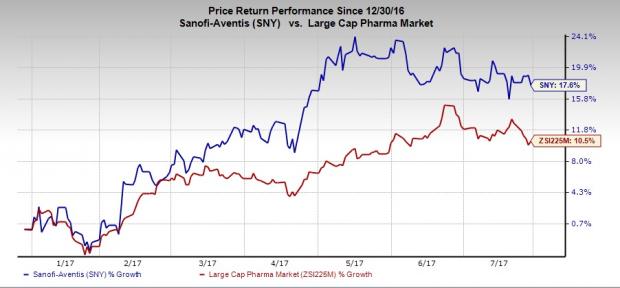 We are encouraged by the strong performance of MS drugs like Aubagio and Lemtrada. We are also optimistic on sales prospects of Dupixent, which could prove to be an important growth driver for the company.
However, headwinds include a bleak outlook for the Diabetes franchise, generic competition for many drugs and slower-than-expected uptake of new products like Praluent.
Sanofi currently carries a Zacks Rank #2 (Buy). You can see the complete list of today's Zacks #1 Rank (Strong Buy) stocks here.
Sanofi Price, Consensus and EPS Surprise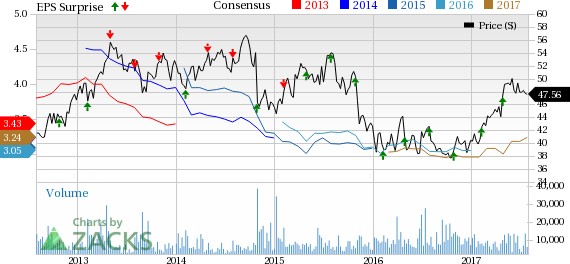 More Stock News: 8 Companies Verge on Apple-Like Run
Did you miss Apple's 9X stock explosion after they launched their iPhone in 2007? Now 2017 looks to be a pivotal year to get in on another emerging technology expected to rock the market. Demand could soar from almost nothing to $42 billion by 2025. Reports suggest it could save 10 million lives per decade which could in turn save $200 billion in U.S. healthcare costs.
A bonus Zacks Special Report names this breakthrough and the 8 best stocks to exploit it. Like Apple in 2007, these companies are already strong and coiling for potential mega-gains. Click to see them right now >>
Want the latest recommendations from Zacks Investment Research? Today, you can download 7 Best Stocks for the Next 30 Days.
Click to get this free report
Sanofi (SNY): Free Stock Analysis Report
Merck & Company, Inc. (MRK): Free Stock Analysis Report
Regeneron Pharmaceuticals, Inc. (REGN): Free Stock Analysis Report
Amgen Inc. (AMGN): Free Stock Analysis Report
To read this article on Zacks.com click here.
Zacks Investment Research