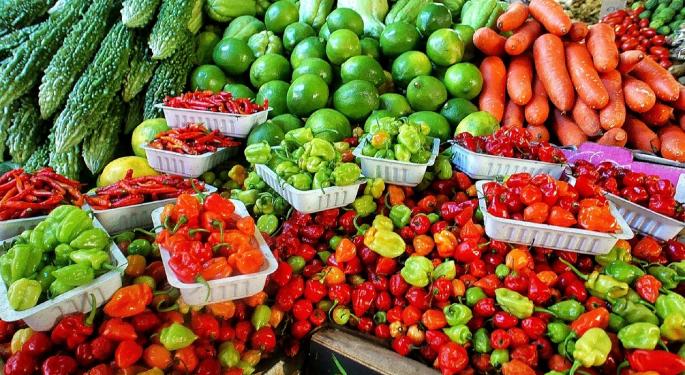 Shares of Whole Foods Market, Inc. NASDAQWFM have gained about 9 percent since November 4, when Bloomberg reported one of the company's top 10 shareholders had met with potential activist investors to discuss making "sweeping changes" to the organic grocery chain, including exploring a sale of the company.
The report said the investor cited issues with Whole Foods' poor inventory and vendor management, high costs and failure to make the most of its unique appeal to millennial shoppers.
Earlier, this month, Whole Foods eliminated the co-CEO structure and appointed John Mackey as CEO.
Activist Involvement Likelihood
In this scenario, Karen Short of Barclays said there are two questions that need to be answered to assess the likelihood of an activist becoming involved:
Question No. 1: "Would WFM's board and mgmt be open to collaborating with an activist in order to create shareholder value?"
Though the recent management changes are an acknowledgement that change is needed, Short feels there is a lack of urgency.
As a result, the analyst believes Whole Foods would collaborate only with an activist, who understands and preserves the company culture, while initiating remedial measures with a greater sense of urgency.
"Given these parameters, we think finding the right activist "partner" could prove to be challenging," Short wrote in a note.
Question No. 2: "What, if anything, could an activist do to create value that WFM isn't already attempting to execute on?"
It is clear that Whole Foods is in a transition phase amid slowing growth and deteriorating fundamentals.
"At this point, transitioning to a "Stable Staple" is the best option available to create value. Said differently: WFM should make business decisions that embrace maturity," Short continued.
Short has an Equal Weight rating on the stock, with a target price of $30.
Shares of Whole Foods closed Thursday's trading at $30.94.
Date
Firm
Action
From
To
Nov 2016
Bank of America
Downgrades
Neutral
Underperform
Sep 2016
Barclays
Initiates Coverage on
Equal-Weight
Sep 2016
Citigroup
Maintains
Neutral
© 2016 Benzinga.com. Benzinga does not provide investment advice. All rights reserved.