Summary
Recent breakthrough therapy designation (BTD) will accelerate lead drug SL-401's development.
Promising data generated in blastic plasmacytoid dendritic cell neoplasm (BPDCN) to date compares favorably to current limited treatment options.
Expansion into other indications provides additional upside and medium term catalysts.
There seems to be a market disconnect between $79 million valuation (when taking out cash) and the market potential of the company's drug treatments.
Since coming to the public markets in early 2013, Stemline Therapeutics (NASDAQ:STML) shareholders have experienced one heck of a ride.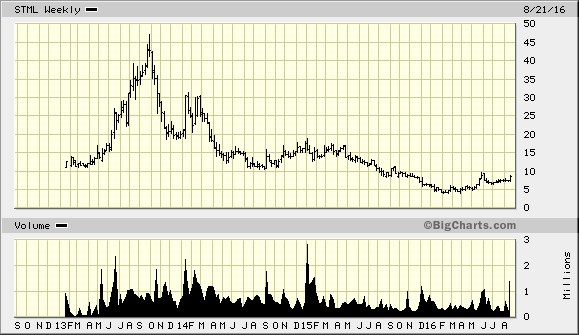 Source: BigCharts.com
The share price reached $47 on positive news for its leading drug candidate SL-401, with Roth Capital setting a $50 price target, Jefferies a $60 price target, Aegis a whopping $70 price target. Reasons for enthusiasm included the accelerated development of its lead candidate in an orphan designation and an estimated $500 million peak market potential in lead indication for the treatment of blastic plasmacytoid dendritic cell neoplasm (BPDCN) according to Jefferies. Aegis analyst Raj Selvaraju claimed $800 million to $3 billion when taking potential expansion into AML (acute myeloid leukemia) into account.
So, why the long decline? For one, the Street's Adam Feuerstein exposed Stemline management's misleading press releases and discrepancies in the corporate presentation, where patient testimonials were taken out of context and other details omitted. With several important questions left unanswered from early data, current skepticism could be warranted or might provide an ideal entry into an undervalued biotech gem.
Source: Stemline Therapeutics
A snapshot of the company's current pipeline reveals three targeted candidates, all enrolling patients in early or midstage studies in multiple indications.
SL-401, the company's lead treatment is a targeted therapy directed to the interleukin-3 receptor (CD123), for the treatment of blastic plasmacytoid dendritic cell neoplasm (BPDCN). While a small patient population exists for the condition, a possible one to two thousand patients (company estimates potential market might be larger than originally thought) is...
More