Alkermes plc ALKS announced positive preliminary top-line results from a phase III study, ENLIGHTEN-1, evaluating its schizophrenia candidate, ALKS 3831. It is a supportive study in the broad clinical development program, ENLIGTHEN on ALKS 3831.
We note that ALKS 3831 is a once-daily, oral atypical antipsychotic drug candidate designed to be a broad-spectrum treatment for schizophrenia.
Alkermes' share price increased 4.3% year to date, underperforming the Zacks classified Medical - Biomedical and Genetics industry's gain of 6.4%.
ENLIGHTEN-1 study is assessing the antipsychotic efficacy of ALKS 3831 compared with placebo over four weeks in patients with acute exacerbation of schizophrenia. The study also includes a comparator arm of Eli Lilly and Company's LLY Zyprexa (olanzapine), an established atypical antipsychotic agent with proven efficacy but also metabolic liabilities, including significant weight gain.
The study met its primary endpoint, demonstrating statistically significant reductions in Positive and Negative Syndrome Scale (PANSS) scores versus placebo from the baseline. The candidate showed improvements similar to Zyprexa.
Moreover, ALKS 3831 showed similar weight gain and metabolic side effects commonly associated with the use of Zyprexa.
The company is conducting another phase III study, ENLIGHTEN-2, evaluating weight gain with ALKS 3831 compared with Zyprexda. The data from the study is expected in 2018. A favorable weight and metabolic profile compared to Zyprexa will make the candidate a potential treatment for schizophrenia.
Per the press release, the chronic, severe and disabling brain disorder, schizophrenia affects approximately 2.4 million adults in the U.S.
We note that the market for schizophrenia is highly competitive with the presence of drugs from large-cap pharma companies including Johnson & Johnson's JNJ Invega Sustenna and Risperdal Consta, and Allergan plc's AGN Vraylar. A few other companies are also developing their candidates for this indication.
Alkermes PLC Price and Consensus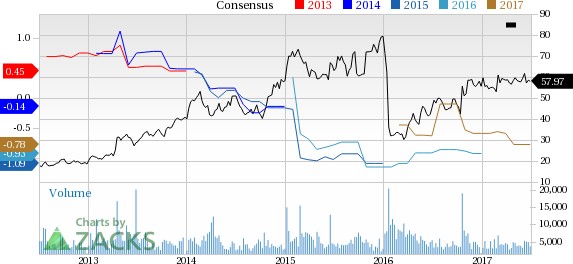 Alkermes carries a Zacks Rank #4 (Sell).
You can see the complete list of today's Zacks #1 Rank (Strong Buy) stocks here.
5 Trades Could Profit "Big-League" from Trump Policies
If the stocks above spark your interest, wait until you look into companies primed to make substantial gains from Washington's changing course.
Today Zacks reveals 5 tickers that could benefit from new trends like streamlined drug approvals, tariffs, lower taxes, higher interest rates, and spending surges in defense and infrastructure. See these buy recommendations now >>
Want the latest recommendations from Zacks Investment Research? Today, you can download 7 Best Stocks for the Next 30 Days.
Click to get this free report
Eli Lilly and Company (LLY): Free Stock Analysis Report
Allergan PLC. (AGN): Free Stock Analysis Report
Johnson & Johnson (JNJ): Free Stock Analysis Report
Alkermes PLC (ALKS): Free Stock Analysis Report
To read this article on Zacks.com click here.
Zacks Investment Research