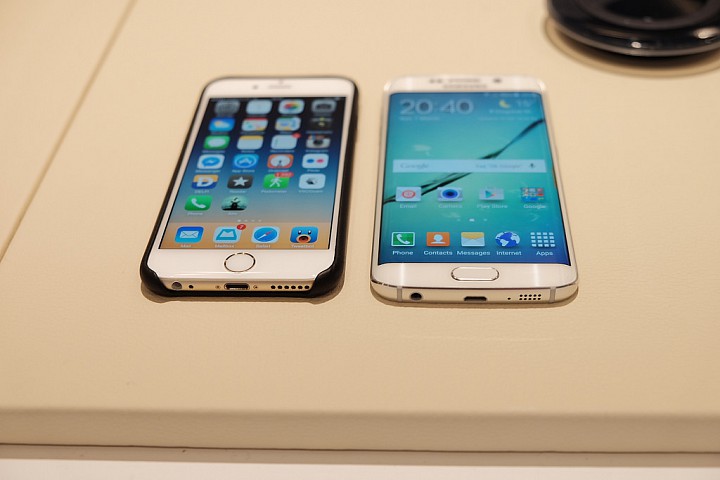 You don't need to observe too hard to see the similarities between the both.
The curved aluminum edges, the placement of the volume and on/off buttons, the bumped-out rear camera and pretty much everything else about theGalaxy S6 is the same as the iPhone 6 -- right down to the fingerprint-sensor home button. If imitation is the highest form of flattery, Apple's design team should be blushing right now.
Though it's undeniably better than previous Galaxy S phones, there's nothing terribly original about the S6's design either. All smartphones kind of look like one another these days, but it's as if Samsung's team purposefully designed the Galaxy S6 to be an iPhone for people who hate Apple (NASDAQ:AAPL) .
Lets find how on three parameters : 
Speed. The Galaxy S6 is noticeably fast, which is remarkable during an era when even the cheapest of cheap smartphones feels like a racehorse. There are no hiccups or jitters when you swipe through screens and open up apps.
Camera. The cameras are awesome. The Galaxy S6's 16-megapixel rear camera is among the best on any smartphone, and the 5-megapixel front camera might be the best selfie camera on the market.
Display. The screen is also jaw-dropping. It's bright, the colors are brilliant, the viewing angles are tremendous. It feels like a 4K ultra-high-definition TV in your hands -- because it kind of is. Its resolution is four-times more pixel-dense than standard HD displays.
Comments by actual users :
"Samsung has a guarantee thats so clever , its not worth the Rooks Customer Service plaza its written on . Even on a new phone thats only 4 weeks new
Its a sophisticated corporate utopian blind freddy rip off
Camera Failed --- Samsung smart Phone Gotcha "
"lol, no Goldman, the two look nothing alike. The only vague similarities you can draw are they're both rectangular and white, that's about it. The S6 looks more like every other Galaxy S phone in the series."