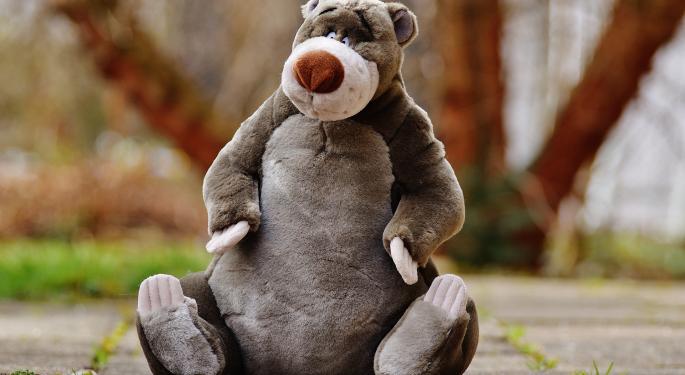 The more than 5 percent drop in Walt Disney Co DIS 4.19%'s stock on Wednesday should solidify the bear argument against owning the stock. However, this is not the case according to Jason Bazinet, Citigroup's media analyst.
Bazinet was a guest on CNBC's "Squawk on the Street" segment on Wednesday to discuss Disney's rare earnings miss.
Look For The Bare Necessities, The Simple Bear Necessities
According to Bazinet, the bulls "got everything they wanted" – Disney's studio results exceeded expectations. At the same time, the bears "did not get what they wanted," namely a miss on Disney's cable network segment.
Bazinet expanded that Disney's commentary in regulatory filling show that the rate of cord cutting moderated sequentially.
"That's part of the reason why I think Disney's stock was so strong going into this print," Bazinet said. "Most people understood that those dynamics were probably going to unfold."
However, Bazinet added that the "real surprise" in Disney's print was a miss in the consumer products segment. He continued that the Street was looking for "significant growth" as the company continues to monetize all of its intellectual properties.
Finally, Disney's CEO Bob Iger indicated he has no plans to remain with the company after his contract ends in 2018. The analyst argued that succession plans are unlikely to be an issue as the company has been considering who will replace Iger prior to his contract extension in 2014.
© 2016 Benzinga.com. Benzinga does not provide investment advice. All rights reserved.