Solar stocks have had a rough 2016. Solar City (SCTY) seems doomed to join the long line of troubled companies that fell from grace. The stock is down 64% year-to-date and has traded with a downward bias since its all-time high in February, 2014.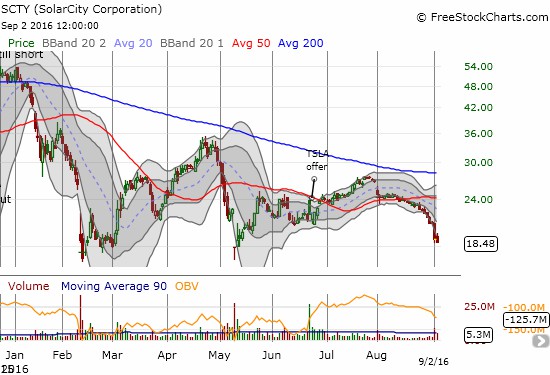 Source: FreeStockCharts.com
Tesla's deal for Solar City has turned into a net negative as the stock as August's sell-off accelerated to start September.
Tesla Motors (TSLA) is trying to come to the rescue. The stock initially gapped down on the acquisition offer. Yet, TSLA's fan base remained strong and loyal enough to buy the stock back up. Unfortunately for them, two and a half months later, TSLA is right back where it started. After closing below its 50-day moving average (DMA) on Friday, August 26, TSLA lost 10% of its value in the following week. TSLA has sold off 4 of the last 5 days with those 4 down days ending below the lower-Bollinger Band (BB). That is some serious selling pressure.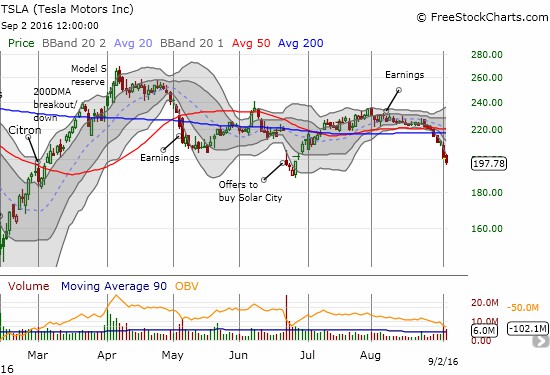 Tesla Motors has sold off nearly non-stop ever since breaking down below 50/200DMA support. The stock is now back where it closed after announcing the deal for Solar City.
The tinder box is probably not finished throwing off fireworks. On top of the intense selling pressure sits massive short interest: 40% of float for SCTY and 30% of...
More