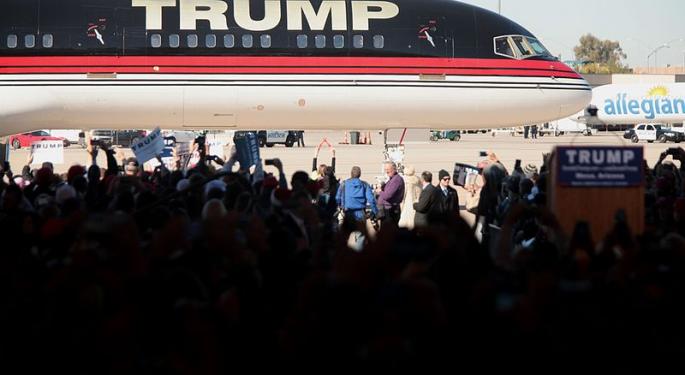 Shares of major defense contractors were in the red after a tweet from President-elect Donald Trump, who wants the United States to cancel a Boeing Co BA 0.03% contract for delivering Air Force One planes.
Trump, Tweets And Stock Reactions
"Boeing is building a brand new 747 Air Force One for future presidents, but costs are out of control, more than $4 billion. Cancel order!" Trump tweeted.
Trump followed up by calling the plane "totally out of control" and "ridiculous." He went on to say that he wanted Boeing to make money, "but not that much money."
CNBC reported that Boeing won a contract back in January to begin work on a new fleet of Air Force One planes.
The tweet triggered selling pressure of defense stocks as investors feared that other contractors too could face similar backlash from Trump. That said, the stocks have somewhat recouped their initial losses.
At Last Check
Boeing shares were down 0.09 percent at $152.02.
Image Credit: By Gage Skidmore from Peoria, AZ, United States of America (Donald Trump plane) [CC BY-SA 2.0], via Wikimedia Commons
© 2016 Benzinga.com. Benzinga does not provide investment advice. All rights reserved.