The UK economy continues to surprise analysts and market participants when it comes to macra data. This has been something I've noticed over the last 2 months, especially when it comes to its PMI reports.
(For those not familiar, Markit, the leading provider of these "Purchasing Managers' Index" reports, issues 3 PMI reports for the UK - manufacturing, services and construction. They are surveys of purchasing managers (who have good insight into how well their business is doing) and generally is considered one of the better leading indicators for any economy. A reading above 50 means expansion, while a reading below means contraction.)
Well, in the European Monday session we saw the latest PMI measure for the UK Services sector for the month of July and it posted an impressive 60.2 compared to the forecast of 57.4 and June's reading of 56.9. That 60.2 reading is the strongest pace in six-and-a-half years!
The internals of the report showed business confidence at its highest in 15 months and a surge in orders increasing backlog orders at their fastest rate since Feb. 2000. This bodes well for employment as well as economic growth as it is the services sector that makes up a bit more than three-quarters of the UK economy.
Let's take a look at a graph and table of this important reading to visualize the improvement.
This chart comes from Markit's report: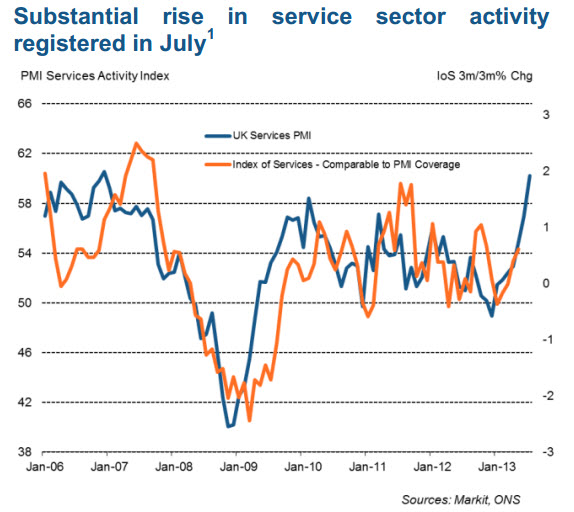 With that info in mind, let's have a look at the impact this report had on the GBP, especially the
EUR/GBP pair: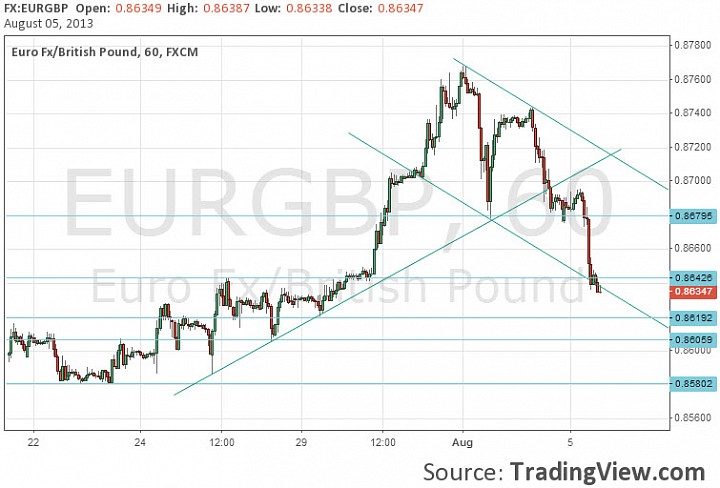 As we can see, the positive surprise helped the GBP to push below a level of support near 0.8680, extending a move in favor of the GBP that started at the end of last week. Previous to this retrace the EUR had been in charge of the pair for about a month, and the sharp moves in favor of the GBP (the earlier move saw its catalyst from a stronger than expected Manufacturing PMI reading from the UK last Thursday) may signal that market participants are changing their bias on the cross.

Personally, I have been bearish on this pair ever since I caught onto the economic data being stronger than expected out of the UK (with the PMI's my main signal) which implies that the UK economy may be in slightly better shape than the Euro-zone and as a result monetary policy may be less loose in the UK than it is in the EZ, This bias didn't really help throughout July as data from the EZ showed some bottoming and therefore helped the pair push higher. Is the rest of the market now getting wise to the fundamental bias here? It's something market participants will find out over the next few days and can lay the grounds for (my) fundy bias to actually converge with price action in this pair.

- Nick