While PRexit is yet to hit the headlines, Puerto Rico bonds joined an illustrious club of ne'er-do-wells today with its 10Y yield spiking above 10%...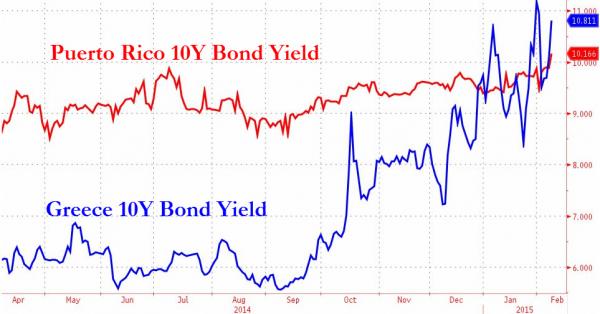 The surge comes after a judge threw out a debt-restructuring law that lawmakers passed last year. As Bloomberg reports,
The steepening borrowing costs come at a crucial time for the U.S. territory: Officials want to sell $2 billion of petroleum tax-backed debt to pump cash into the Government Development Bank, which lends to the island and its localities.  

 

Puerto Rico and its agencies have $73 billion of debt, more than all U.S. states but California and New York. Most of the securities are tax-free nationwide and held by investors around the country. General obligations maturing in 2035 traded with average yields above 10 percent, the highest since they were issued in March 2014. The securities changed hands for as low as 81 cents on the dollar.

 

The selloff is "putting pressure on liquidity for the commonwealth, which has implications for just about everything they do,'' said Bill Black, who helps manage Invesco Ltd.'s $7.5 billion High Yield Municipal Fund.

 

U.S. District Judge Francisco A. Besosa ruled Feb. 6 that the restructuring law that Governor Alejandro Garcia Padilla signed in June would take away protections provided under federal bankruptcy code, presenting an "irreconcilable conflict."

 

Puerto Rico plans to appeal the ruling, Secretary of Justice Cesar Miranda said in a statement Monday. The law would have allowed certain Puerto Rico agencies, such as its power utility, to negotiate with bondholders to reduce their debt. By strengthening the hand of those investors, the decision may leave less cash available for Puerto Rico general obligations, said Black at Invesco, which owns some of the utility debt.

 

"It is important that the commonwealth's creditors, other constituents of political entities and the public interest that these entities serve, benefit from mechanisms necessary to adjust their debts in an orderly manner at an economic cost that is prudent and in the best interests of the commonwealth,'' Melba Acosta, president of the GDB, said in a statement.

 

Throwing out the restructuring law restores bondholders' ability to force Puerto Rico and its agencies to raise taxes or electricity rates, cut staff and negotiate fuel contracts, said Daniel Hanson, an analyst at Height Securities LLC, a Washington-based broker-dealer.

 

"Puerto Rico is now in a meaningful position of weakness with respect to its bondholders,'' Hanson said. "It forces the government's hand in public-policy questions. They either make decisions that are bond-friendly or they're forced to make decisions later on by courts."
*  *  *
Chart: Bloomberg