Today, the UK's Office of National Statistics (ONS) released preliminary GDP data for Q4. Coming in at 0.5% compared to Q3, it was the slowest quarterly growth in 2014 and is a downturn compared to a good run in 2013. The print for Q3 was 0.7%-0.8% and the forecast for Q4 was around 0.6%.
"The increase in GDP followed growth of 0.8% in Q3 2014. In the latest quarter there were increases in two of the four main aggregates; output increased by 0.8% in services, 1.3% in agriculture. In contrast output decreased by 1.8% in construction and 0.1% in production." (ONS)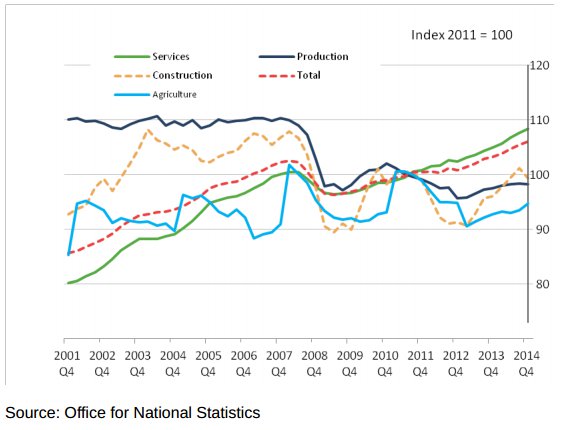 (ONS)
While the declining trend was to be expected as the BoE's growth and inflation projections have been lowered, but the slightly disappointing reading is still a dragon the pound.
The GBP/USD was rallying after making a low on the year at 1.4950.

GBP/USD 1H Chart 1/27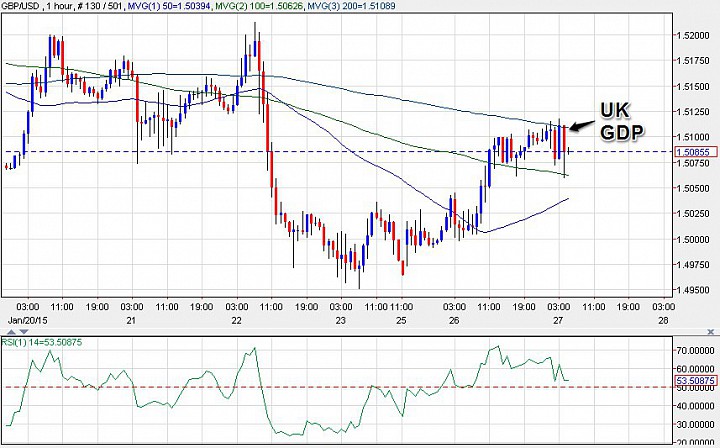 (click to enlarge)
It started to consolidate around 1.51, and found resistance after the GDP data. To the downside, the 1.50-1.5025 area will be important. If price holds above 1.50, there is still a chance for more bullish correction, especially with the FOMC meeting ahead. Traders might be cautious because the FOMC is pressured to delay its rate hike plans after recent events with other central banks and with some downturn in economic data at the end of 2014.

To the upside, there will be resistance at 1.52. But if the FOMC does turn dovish, we have a chance to test push higher to test the 1.5265 high. So now we watch 1.52 and 1.50 for the FOMC reaction tomorrow.