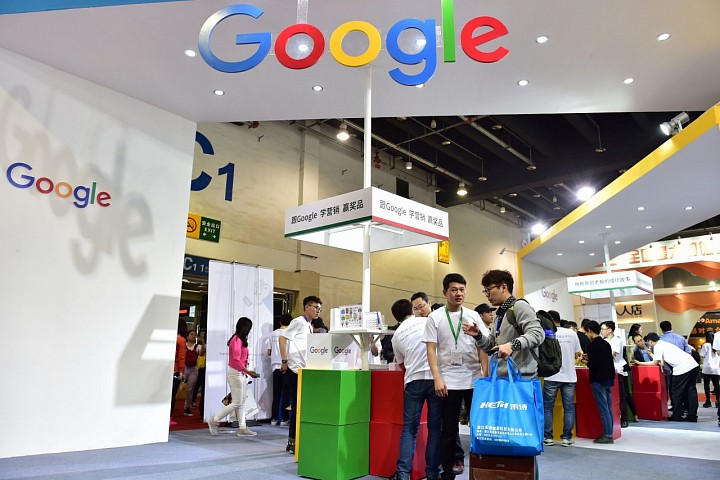 Google parent Alphabet Inc.'s third-quarter profit grew 33%, extending strong growth in the tech giant's advertising business as increased scale helped it overcome pressure from declining ad rates.
Alphabet on Thursday said profit reached $6.73 billion in the quarter, compared with $5.06 billion a year earlier. Net revenue rose 24% to $27.77 billion.
Alphabet's earnings were $9.57 a share, beating Wall Street estimates of $8.31 a share.
Alphabet's shares rose 4.2% in after-hours trading. Its shares have risen 25% this year.
Aggregate cost-per-click, which is how much advertisers pay for user clicks on links, declined 18%.
Google is depending more on users clicking on ads in its mobile search results and before YouTube videos, clicks that carry lower margins than desktop search ads that drove its business for years. That is in part because of so-called traffic acquisition costs, or fees Google pays to smartphone makers to put its search engine and apps front and center on their devices, as well as to video creators and website owners whose content Google runs ads against. The more Google relies on mobile and YouTube ads, the more it pays in traffic-acquisition fees, putting pressure on its profit margins.
Those fees increased 32% to $5.5 billion in the third quarter from a year ago. Alphabet's operating margin was 28% in the third quarter, compared with 26% a year prior.
Traffic-acquisition costs "have been increasing both in absolute terms and as a percentage of revenues…because of that you've seen margin compression," said Victor Anthony, internet analyst at Aegis Capital. "When that ends, it's unknown at this point, and that's some of the risk in the model and why the stock hasn't outperformed significantly compared to other" large tech companies. Mr. Anthony said the shift to mobile and YouTube has still been good for Google, extending its strong growth despite its age.
Meantime, Google is aiming to diversify from its advertising business, the largest in the world, by creating new revenue streams from sales of smartphones and cloud services. Its cloud and hardware sales are wrapped into a segment called "other revenues," which grew by 40% to $3.41 billion in the quarter.
Google is investing heavily in its cloud business of selling computing power and storage over the internet, and while the division is growing, it still lags behind market leaders Amazon.com Inc. and Microsoft Corp.
Google is also pushing new hardware, including its Pixel smartphones and Google Home speakers, though a test of that effort comes in the fourth quarter because it introduced new devices at the start of October.
More