Twitter is going to announce its earnings early next week, this is one of the most anticipated earnings call during this earnings season. The reason for that is straight-forward: analysts are super negative on this stock, however, nothing is that bad. If you type in "Twitter is dying" in Google, you'll see all these negative feedback Twitter has at the moment. Is everything so bad in terms of business operations? What about financials? Let's check whether Twitter could surprise us or not. 
Previous quarters
The main source of revenue flow for Twitter is advertising. It means that Twitter's revenue depends on the traffic they have, on monthly active users (MAU). This is the most important metric for such kind of business. However, there are a few more metrics that are even more important for business owners and investors. Average revenue per unit and operating margin per user. Check this graph below with average revenue per one monthly active user since Q1 FY2014: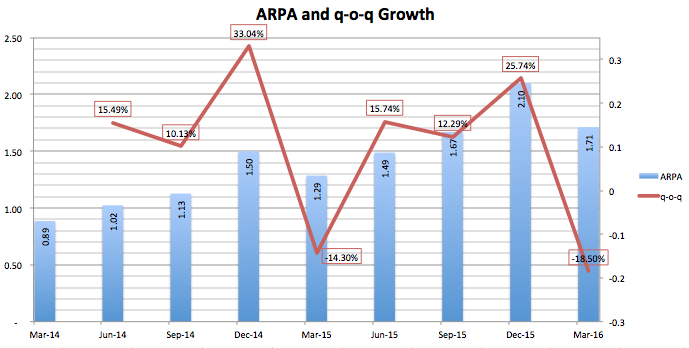 As you can see from this chart, Twitter's ARPA is very seasonal. We always see the drop in the first quarter, however, the full recovery comes in the third quarter and the most significant growth is in Q4. 2016 fiscal year isn't an exception. The drop was really huge, the company decreased its ARPA by almost 19% in Q1 FY2016. 
Another important metric is an average operating margin per user. You can see, that this operating margin was always below the water line for Twitter: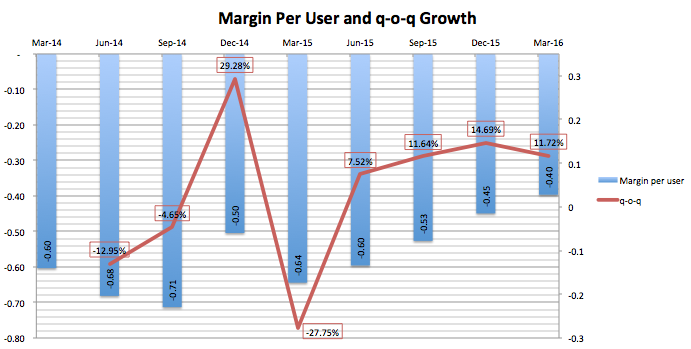 Here is the main issue and main problem for Twitter. However, we can see that Twitter just broke the trend - in Q1 FY2015 margin dropped almost 30%, however in Q1 FY2016 this margin grew up 12%. This is a huge improvement and Twitter is really close to positive margin at least per one active user. This is a very significant and important metric for Twitter's business. 
Forecast
My core assumption regarding Twitter's operating metrics will be close to zero MAU growth rate. To be honest, I don't believe that Twitter could increase its MAU significantly this year, however, I assume that it will be able to provide .2-.5% q-o-q growth. Based on this, my assumption on MAU for this quarter will be around 310-311MM. 
According to year-over-year trend, Twitter's ARPA is going up 33%, taking into consideration that the company had a 16% increase in Q2 FY2015, I assume that they will be able to provide 12-17% ARPA growth this quarter. It would convert into $1.92-$2.00 ARPA. It will be below the Q4 FY2015 level, but still an important growth. 
Based on the above-mentioned results of my calculations, my revenue forecast for the company will be the following:
$596-$6246MM Advertising Revenue;
$661-$691MM Total Revenue.
I assume that the company will be able to narrow the operating loss per one active user to $.35-$.30, however, there are lots of factors affecting this number. 
Conclusion
I do like the trends in Twitter's operating and financial metrics, however, I don't want to go against the crowd. The only think I know exactly is that after the earnings call Twitter's volatility will jump. It will definitely go somewhere in stratosphere as it usually happens with a company that beats or misses analysts estimates. According to Financial Times revenue consensus is around $606M for this quarter which is way below what I think we can see. 
Twitter has Periscope and they could benefit from it in mid or long-term. Basically, they can start monetizing it even now, but I think there are some technological difficulties on implementing the products that I wrote about a few days ago. Periscope could be a real driver for Twitter's revenue in the future. 
Again, this is one of the most anticipated earnings for me this season and I think you should at least keep Twitter in your watch list. The game isn't over, Twitter is live.