Shares of Snap Inc. SNAP are moving lower on Tuesday, breaking below the $15 per share mark for the first time since its historic market debut a few months ago.
The $15 threshold was another hopeful bottom for the stock, which is already resting comfortably below its IPO price, and with the company's lock-up period set to expire soon, the end of this slump may be further away than once anticipated.
Check out SNAP's five day chart for a glimpse at its recent weakness: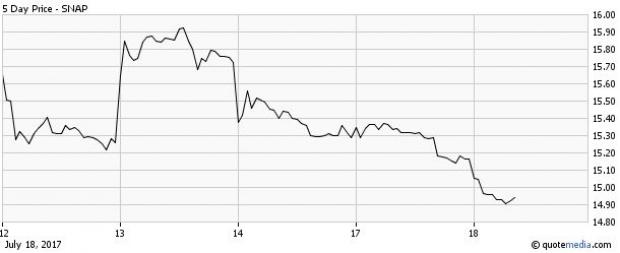 Last week, I wrote that the $15.20 line would be the next test for Snap. Even in its worst moments last week, which included a downgrade from Morgan Stanley and a concerning opinion from an advertising mogul, Snap found a bottom right above this $15.20 mark.
At the time, it appeared as if the next true test for that support line would be the expiration of the lock-up period, but alas, that support did not even hold until then.
Snap's lock-up period, which was notably longer than most IPO lock-ups, is set to expire on July 30, with the first day of affected trading being July 31. At that time, company employees who hold shares will finally be able to sell their stock on the open market. This means new shares of SNAP could potentially flood Wall Street very soon, sending the stock even lower.
The last time I attempted to call a possible support line for this stock, I was proved wrong. For that reason, I won't speculate again.
However, I will say this much: holding SNAP over the next few weeks will not be an activity that I recommend for the faint of heart. There is even more volatility on the horizon, and if you're an investor that likes to avoid risk, this Zacks Rank #4 (Sell) stock is probably not your best bet.
Want more stock market analysis from this author? Make sure to follow @
https://twitter.com/Ryan_McQueeney
on Twitter!
5 Trades Could Profit "Big-League" from Trump Policies
If the stocks above spark your interest, wait until you look into companies primed to make substantial gains from Washington's changing course.
Today Zacks reveals 5 tickers that could benefit from new trends like streamlined drug approvals, tariffs, lower taxes, higher interest rates, and spending surges in defense and infrastructure. See these buy recommendations now >>
Want the latest recommendations from Zacks Investment Research? Today, you can download 7 Best Stocks for the Next 30 Days.
Click to get this free report
Snap Inc. (SNAP): Free Stock Analysis Report
To read this article on Zacks.com click here.
Zacks Investment Research