Market output improving with record corn crop, cheap gasoline
U.S. profit margins surged six-fold in year to 14-month high
Some survivors of the American ethanol-industry downturn are looking to acquire assets from a failed competitor just as market conditions show signs of a rebound.
Spain's Abengoa SA says it has received more bids in the past month for the four U.S. ethanol plants that the Spanish company is planning to auction next month as part of a bankruptcy settlement. Green Plains Inc. agreed to pay $200 million for two of the facilities last month, while Kaapa Ethanol LLC and BioUrja Trading LLC each bid on one of the others.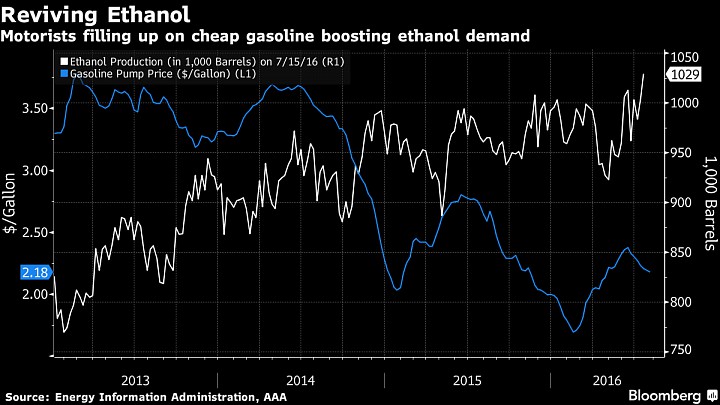 Making grain-based fuel got more profitable this year with U.S. farmers set to harvest the world's biggest corn crop ever, which will mean cheap, ample supplies of the primary raw material. At the same time, American motorists have been buying more gasoline after pump prices touched a seven-year low in February, boosting demand for alternative fuel that refiners are required to blend with every gallon. Ethanol output reached a record this month.
"Corn looks great," Chuck Woodside, chief executive officer of Kaapa Ethanol, a Minden, Nebraska-based company that's bid $115 million for one of the plants. "We continue to be optimistic about the long-term future of the industry."
Not long ago, the prospects weren't so good, even with increased government mandates for ethanol use that began almost a decade ago. The industry overbuilt capacity and profit margins shrank. During the recession in 2008, VeraSun Energy Corp., regarded as a bellwether, declared bankruptcy and its plants were acquired by...
More