---
Mergers and acquisitions (M&A) are a big deal and big part of what drives the real and perceived value of companies and, by extension, their stocks.
Mergers and acquisitions happen so companies can acquire talent, customers, shut down a competitor, gain access to technologies and a whole host of other reasons. Mostly, however, M&A has to do with growth.
Related: HOW A TRUMP PRESIDENCY WOULD AFFECT GLOBAL M&A
M&A Sentiment For The Rest Of 2016
How dealmakers – those who drive mergers and acquisitions – feel about M&A is a critical indicator of how many deals will take place, where they will take place and what events or activities will have the greatest impact on those deals moving forward.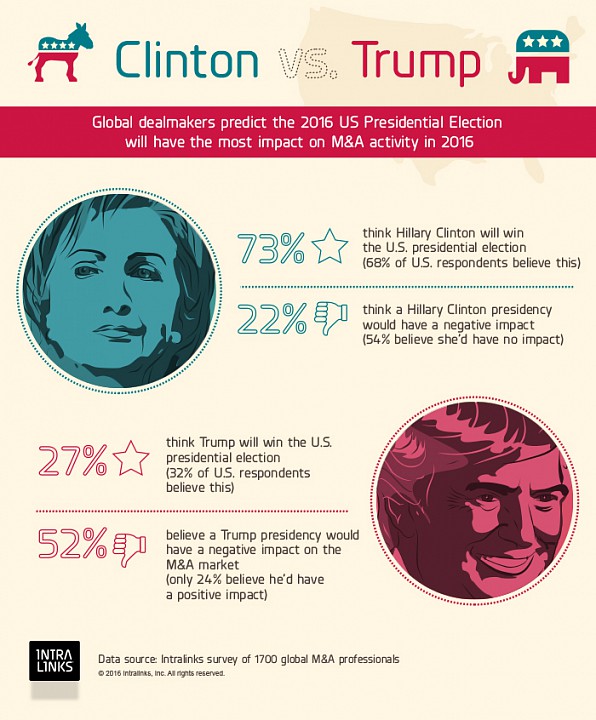 According to the latest IntraLinks Holdings Inc. (NYSE:ILC) M&A Sentiment Survey, global dealmakers predict the U.S. Presidential Election will have the most impact on M&A activity in 2016
Sentiment By Region
Overall worldwide M&A sentiment has increased slightly since last quarter. This is the first increase in sentiment since the second quarter of 2014. While this outcome is surprising given the fact 2016 is a U.S. election year, it's no surprise that North America is the least optimistic.
Europe, the Middle East and Africa (EMEA) are the most optimistic but IntraLinks cautions that the sentiment survey data was collected pre-Brexit.
Breaking Down Presidential Election Sentiment
Nearly 73% of global dealmakers believe Hillary Clinton will win the U.S. presidential election. Interestingly, only 52% of respondents believe the impact of a Trump presidency on the M&A market would be negative.
Almost 54% of respondents believe a Clinton presidency would have no impact on the M&A market.
Hot Sectors For M&A
Dealmakers indicated they expect the health care sector to have the most activity through the end of 2016 overall. EMEA expects an increase in M&A activity in industrials.
Latin America (LATAM) and Asia Pacific (APAC) look for energy & power to have the most activity.
Related: WOO TRADER BENZINGA INDIVIDUAL ANALYST INFO
Takeover Targets
Given the sectors named by dealmakers as likely to be most active, the following companies may deserve additional scrutiny.
Health care is a particularly vulnerable sector with volatile drug prices and other factors. As a result, big pharma's sights are set on Kite Pharma Inc. (TSX:KITEC), Medivation, Inc. (NASDAQ:MDVNC), and Portola Pharmaceuticals (TSX:PTLAC) to name just a few.
Industrials are perennial takeover targets – just because. For the balance of 2016 companies that have already come up on acquisition radar include American Axle & Manufacturing (NYSE:AXLC), Cooper Tire & Rubber (NYSE:CTBC), ITT Corp. (NYSE:ITTC) and Kulicke & Soffa (NASDAQ:KLICB).
Energy, especially on the oil and gas side of the ledger is expected to pick up in the second half of 2016 make companies such as Concho Resources (NYSE:CXOC), Whiting Petroleum Corp. (NYSE:WLLD), Oasis Petroleum (NYSE:OASC), Range Resources (NYSE:RRCC), Antero Resources (NYSE:ARC) and Anadarko Petroleum (NYSE:APCC) takeover targets on a large scale.