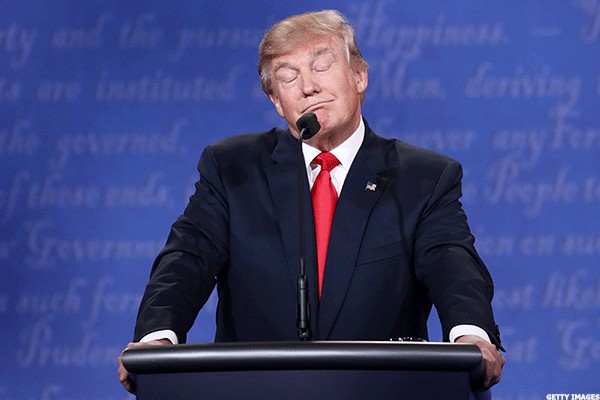 Turns out, Donald Trump doesn't own stock in Boeing. Nor in Microsoft, or Ford, or Amazon, or AT&T, or any of several other companies whose policies may be affected by his future administration, and all of which he said he held as of a financial disclosure he made in May. He's gotten rid of all that stock, his spokesman Jason Miller said today. Sold it all in June, Miller said.
Miller made the comment on a call with the press regarding Trump's morning tweet criticizing Boeing (BA) for overcharging the government on the sale of a new version of Air Force One. Miller later confirmed to the AP that he did indeed mean that Trump had sold not just his Boeing stock, but all of his stocks at that time. The AP asked for proof, and Miller declined to provide it.
The Trump transition team did not respond to requests for comment on the stock sales or to provide any evidence of it.
The announcement comes amid growing conflict-of-interest concerns regarding Trump's business endeavors that are not necessarily shared by the president-elect, his family or his business associates. In his May 2016 financial disclosure, the self-described billionaire listed millions of dollars in investments in dozens of publicly-traded companies across a wide range of industries, including banking, technology, energy and autos.
Trump's camp has been rather coy regarding what will happen to his private business interests, including stock holdings, now that he has been elected. The Washington Post reported as recently as last week that a Trump spokeswoman did not respond to requests for comment for one of its stories on Trump's stock portfolio. Trump announced on Twitter in late November that he will discuss what will happen with the Trump Organization at a December 15 news conference. There is no indication he will divest of the company, and signs point to him holding control over to his children...
More