Summary
Mortgage Insurance is an opaque and over looked industry.
Profitability is coming sooner than investors are anticipating.
The valuation makes no sense.
Summary
Dylan Street Capital is submitting NMI Holdings, Inc. (NASDAQ:NMIH) as its top pick for 2016. We believe that NMI Holdings offers investors a skewed risk/reward opportunity for two primary reasons:
Private mortgage insurance is an opaque industry, thus offering an edge for those who spend the time to understand the business model.
NMI Holdings is currently losing money, but the path to profitability is clear. This offers investors an opportunity to buy a business whose valuation is near liquidation value despite its ability to earn mid-teens return on equity going forward.
Normally, Dylan Street Capital won't invest in money losing businesses, but NMI Holdings operates in a unique industry where fixed costs are high during development stage, but remain relatively flat over long periods of time. Thus, the earnings/cash flows of NMI Holdings will flow directly down to the investors. Dylan Street Capital believes that NMI Holdings' potential is uncorrelated to the broader markets as its value to shareholders will be determined by management's ability to continue executing the business plan.
History of NMI Holdings
NMI Holdings, Inc. ("NMI") was founded in May of 2011 to act as a new provider of private mortgage insurance. Mortgage insurance protects mortgage lenders from possible defaults on loans where borrowers make down payments of less than 20%. There are two primary ways a loan can be insured 1) private mortgage insurance or 2) through one of the government agencies such as Federal Housing Authority ("FHA"), Veterans Affairs ("VA"), and Ginnie Mae. For our purposes, the FHA is by far the largest competitor to the private mortgage industry.
The need for new private mortgage insurance companies arose as a result of the 2008 financial crisis when the private mortgage insurance industry suffered large defaults as a result of poor underwriting during the periods preceding the financial crisis. Some of the private mortgage companies went bankrupt and others were forced to issue equity and debt to improve the financial capital ratios. In response, two companies were formed by investors to begin writing mortgage insurance: Essent Group (NYSE:ESNT) and NMI Holdings. Also, Arch Capital (ARCH) formed a new division and acquired a previous private mortgage insurance platform to begin writing private mortgage insurance.
Currently, there are seven major players that write private mortgage insurance. The seven companies are as follows: Mortgage Guaranty Insurance Corporation (NASDAQ:MGIC), United Guaranty Corporation (division of AIG), Genworth Mortgage Insurance Corporation, (NYSE:GNW), Essent, Arch Mortgage Insurance Company, and NMI.
In April 2012, NMI conducted a private placement in which it raised net proceeds of $510 million. NMI initially sold 55,000,000 shares for gross proceeds of $550 million or $10 per share. In June of 2013, NMI filed its initial S-1, and in that filing it disclosed that Hayman Capital Management owned 5,496,500 shares or 9.9% of the outstanding shares. Hayman Capital is run by Kyle Bass who became well known to investors for profiting from the 2008 subprime crises by buying credit default swaps tied to subprime originators. Mr. Bass is profiled in the book "Boomerang" by Michael Lewis. Also, this filing disclosed that Hayman Capital has a representative from its firm (John Brandon Osmon) on the board of directors of NMI. This is how we initially became interested in NMI. John Osmon is still on the board, and as of the most recent 13-F filing (Filed 11-16-2015), Hayman Capital owns 7,371,500 shares. This represents an increase in shares owned of approximately 34%. Also, NMI represents Hayman's largest position amongst its 13-F eligible securities. Hayman is the largest outside owner of shares with his ownership stake representing approximately 12.5% of the shares outstanding. The second largest shareholder is Oaktree Capital Management owning 5,467,043 shares or 9.3% of NMI. Oaktree is another great value investor.
But Hayman's or Oaktree's ownership does not guarantee that NMI is a good business, nor does it excuse doing our own research. Before we dive into the specifics of NMI, we thought it was warranted to provide our readers with an understanding of how private mortgage insurance works in general. MGIC, one of NMI's competitors, put out a nice booklet that walks you through a quick example. The two pictures (one is text) presented below come from page 4 of the booklet. We cut and pasted them together because we think it gives the readers a great and simple way to understand the business.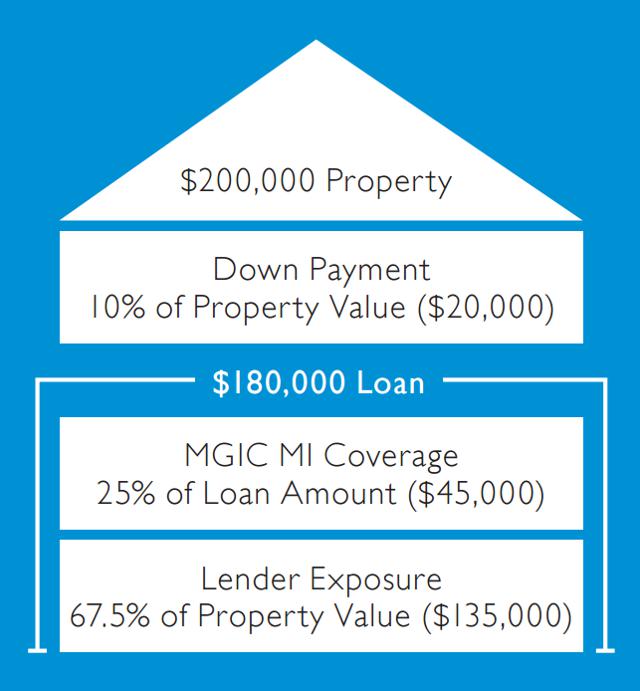 Here the borrower is putting 10% down ($20,000). That means he/she is borrowing $180,000 from the lender on a $200,000 loan. The Loan-to-Value ("LTV") is calculated by taking the loan amount and dividing it by the purchase price. Or 180,000/200,000. Or 90%. There are basically four types of private mortgage insurance: borrower paid monthly, borrower paid single, lender paid monthly, and lender paid single. The most common is borrower paid monthly. This means that the borrower pays for the insurance every month based upon the loan amount. The borrower paid single means that the borrower pays for the insurance in one payment upfront. And the lender paid is the same as the previous two except that the lender is paying for the insurance. However, it should be noted that lender paid in some ways is misleading because more often than not the lender makes up for this payment by charging higher rates. Thus, that is why usually more often than not borrowers are given borrower paid monthly policies. Borrowers usually don't want to pay the full amount upfront because it can be quite a large payment, so they typically avoid this option. Based on today's rates for the example above, a borrower will expect to pay between .39% to 1.13% of the loan amount in the form of borrower paid monthly premium. Assuming .39%, this would be about around $60 a month. The difference in rates above is a function of the borrower's FICO score. The higher the score, the lower the amount paid, and vice versa.
Key Consideration #1: Private mortgage insurance is required.
Private mortgage insurance is usually required when the loan-to-value is greater than 80%; or in other words someone makes home purchase with less than 20% down. The insurance is required by the buyers of loans in the secondary market. That is when the lender goes to sell the loan, the buyers will require that loans with 80% loan to value to carry private mortgage insurance.
Key Consideration #2: Without any changes to NMI, the overall size of the addressable market should get bigger as the private mortgage industry returns to more historical norms, offering investors one option for a positive return on their investment in NMI.
In a typical transaction, a borrower will approach a mortgage lender for a loan. If this person doesn't have 20% down payment, they have two options. They can use private mortgage insurance or apply through one of the government funded programs. In NMI's most recent investor day, it provided the following chart to explain the total addressable market.
Essentially, total mortgage originations is a $1.4-$1.5 trillion market. Of that, 35% of the loans require either private mortgage insurance or insurance from the government bodies. So that becomes $500 billion in addressable market. Currently, 40% of this $500 billion in insurance is being provided by private mortgage insurers, and 60% is coming from government entities, primarily the FHA. Note, private mortgage insurance generally is applicable to new home purchases and not refinances as borrowers usually have a loan-to-value less than 80% at the time they seek to refinance.
Prior to the financial crisis, private mortgage insurance represented a large percentage of the market. The following chart shows you that after the 2008 crisis, the responsibility for insuring...
More