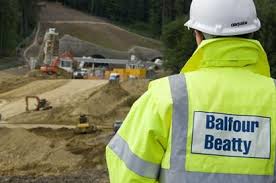 UK construction firm Balfour Beatty has reported a loss of £59m for 2014 and said it will not be paying an annual dividend to shareholders this year.
That compares with a pre-tax profit of £185m the previous year.
It comes after a tumultuous year for the firm, which saw the company issue four profit warnings.
Were it not for the sale of Balfour's US construction business, Parsons Brinckerhoff, losses for 2014 would have amounted to £304m.
Balfour sold the business for £753m in October last year making a profit on the sale of £234m.
The results statement said: "In January 2015, having just received the results of the KPMG review on the operational issues in the UK construction business, the board announced £70m of contract write-downs and that it would also assess the overall level of contract risk provisions in that business - the outcome of which would be announced at the full-year results in March 2015.
KPMG's investigation examined the company's focus on commercial controls, on 'cost to complete' and contract value forecasting and reporting at "project level".
Roger Johnston, analyst at Edison Investment Research, said: 
"While the turnaround in performance will not be easy to achieve, we believe that Quinn's track record and no-nonsense approach will drag the business with him."