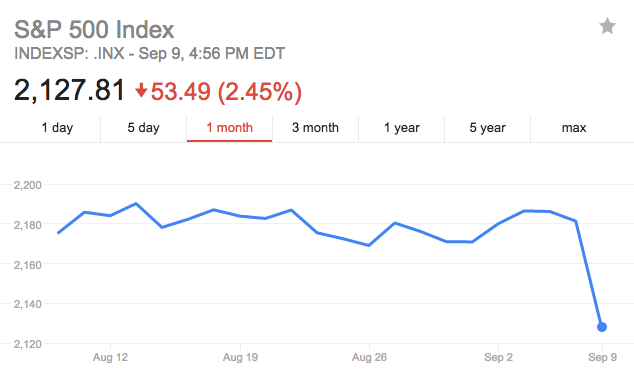 With a slide in oil and comments from Boston Fed President Eric Rosengren stating that the U.S. could increase rates due to lessened worries over the risk of the U.S. economy, the S&P 500 fell 2.5% and the Dow tumbling nearly 400 points.
On Thursday, ECB President Mario Draghi announced the EU's central bank would hold its interest rates unchanged and would not expand its QE measures.
It's been my opinion that the current stock market highs have been very phony in nature. Earnings have tumbled for five consecutive quarters, earnings yield in the market are below 4%, and cash payout ratios (i.e., dividends plus buybacks) are unsustainably high at over 100% to appease shareholders. GDP has grown at a 0.8%-1.2% pace for the past three quarters. Yet the market has continued to rise over that time, although has basically done nothing since mid-July before falling back below 2130 Friday.
The U.S. Treasury note rose 4.9% up 8 bps to 1.68%. The VIX – Wall Street's fear gauge – jumped 39.9%.