AVEO Pharmaceuticals, Inc. AVEO is expected to report third-quarter 2017 results on Nov 3.
In the last reported quarter, AVEO delivered a positive surprise of 20%.
AVEO's share price movement shows that the stock has significantly outperformed the industry so far this year. In fact, AVEO has surged 457.4% during this period compared with a rise of 3.9% for the industry.

Let's see how things are shaping up for this quarter.
Factors at Play
AVEO, a development-stage biopharmaceutical company, is focused on the development of treatments for cancer and other areas of unmet medical need.
In August, the European Commission approved Fotivda (tivozanib) for treating first-line treatment for renal cell carcinoma ("RCC") in adults. The drug has demonstrated superiority over Bayer AG's BAYRY Nexavar in treating RCC. Fotivda became the first approved drug of the company. However, we expect minimal impact on the top line as the launch process is currently underway.
The company depends entirely on collaboration revenues and milestone and other payments for its revenues. AVEO has received a payment of $4 million as research and development payment from EUSA Pharma following the approval of Fotivda. Meanwhile, it also received $0.5 million from CANbridge for achieving a milestone related to manufacturing development activities for AV-203.
Moreover, in June 2017, the company announced that a phase I/II TiNivo study has progressed to phase II based on successful completion of the phase I dose escalation study. In September, AVEO announced that EUSA Pharma has opted into phase I/II TiNino study evaluating Fotivda in combination with Bristol-Myers Squibb Company's BMY Opdivo in RCC. EUSA Pharma may use the study data for regulatory or commercial purposes in exchange for a payment of $2 million.
Apart from tivozanib, AVEO has several early- and mid-stage candidates in its pipeline including ficlatuzumab. In June, the company announced positive results from phase I studies, evaluating the candidate in metastatic head and neck squamous cell carcinoma and relapsed or refractory acute myeloid leukemia.
Investor focus will likely remain on updates related to tivozanib's launch and progress of other pipeline candidates.
Surprise History
AVEO Pharma's performance over the last four quarters has been mixed, with the company surpassing expectations thrice and missing the same once. The average positive surprise over the last four quarters is 11.79%.
Earnings Whispers
Our proven model does not conclusively show that AVEO Pharma is likely to beat estimates this quarter. This is because a stock needs to have both a positive Earnings ESP and a Zacks Rank #1 (Strong Buy), 2 (Buy) or 3 (Hold) to be able to beat estimates. But that is not the case here, as you will see below.
Zacks ESP:Earnings ESP, which represents the difference between the Most Accurate estimate and the Zacks Consensus Estimate, is 0.00%. This is because both the Most Accurate estimate and the Zacks Consensus Estimate stand at a loss of 5 cents. You can uncover the best stocks to buy or sell before they're reported with our Earnings ESP Filter.
Zacks Rank:Although AVEO Pharma's Zacks Rank #3 increases the predictive power of ESP, its 0.00% ESP makes surprise prediction difficult.
Note that we caution against stocks with a Zacks Rank #4 or 5 (Sell rated) going into an earnings announcement, especially when the company is seeing negative estimate revisions.
AVEO Pharmaceuticals, Inc. Price and EPS Surprise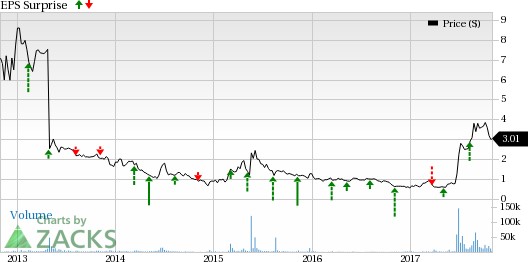 AVEO Pharmaceuticals, Inc. Price and EPS Surprise | AVEO Pharmaceuticals, Inc. Quote
A Stock That Warrants a Look
Here is a health care stock that you may want to consider, as our model shows that it has the right combination of elements to post an earnings beat this quarter.
Clovis Oncology, Inc. CLVS has an Earnings ESP of +2.01% and a Zacks Rank #2. The company is scheduled to release results on Nov 1. You can see the complete list of today's Zacks #1 Rank stocks here.
Wall Street's Next Amazon
Zacks EVP Kevin Matras believes this familiar stock has only just begun its climb to become one of the greatest investments of all time. It's a once-in-a-generation opportunity to invest in pure genius.
Want the latest recommendations from Zacks Investment Research? Today, you can download 7 Best Stocks for the Next 30 Days.
Click to get this free report
Bristol-Myers Squibb Company (BMY): Free Stock Analysis Report
Bayer AG (BAYRY): Free Stock Analysis Report
AVEO Pharmaceuticals, Inc. (AVEO): Free Stock Analysis Report
Clovis Oncology, Inc. (CLVS): Free Stock Analysis Report
To read this article on Zacks.com click here.
Zacks Investment Research