Phillips 66 (PSX) is a diversified energy manufacturing and logistics company with midstream, chemicals, refining, and marketing and specialties businesses. The company processes, transports, stores and markets fuels and products globally. Phillips 66 Partners, the company's master limited partnership, is an important asset in the portfolio.

The company operates through the four business segments, namely, Midstream, Chemicals, Refining, and Marketing and Specialties.

Currently, Phillips 66 has a Zacks Rank #4 (Sell) but that could change following its second quarter 2017 earnings report which has just released. We have highlighted some of the key details from the just-released announcement below:

Phillips 66 Price and EPS Surprise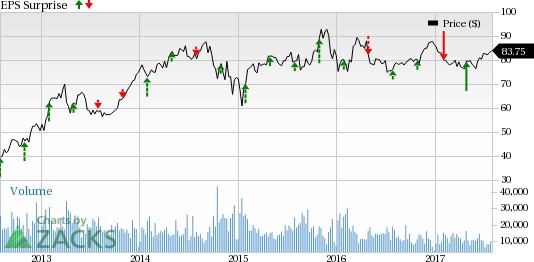 Earnings: Phillips 66 beats on earnings. Earnings per share from continuing operations (excluding special items) came in at $1.09, above the Zacks Consensus Estimate of $1.02.

Revenue: Revenues of $24.6 billion came below the Zacks Consensus Estimate of $25.14 billion.

Key Stats:

The Midstream segment generated adjusted quarterly earnings of $59 million compared with $39 million in the year-ago quarter. The Chemicals segment generated adjusted earnings of $196 million as against $190 million in the comparable quarter last year. The Refining segment's adjusted earnings of $224 million increased from $149 million in the prior-year quarter. Marketing and Specialties (M&S) earnings were $214 million, down from $229 million reported in the comparable quarter last year

Check back later for our full write up on this Phillips 66 earnings report later!

Will You Make a Fortune on the Shift to Electric Cars?

Here's another stock idea to consider. Much like petroleum 150 years ago, lithium power may soon shake the world, creating millionaires and reshaping geo-politics. Soon electric vehicles (EVs) may be cheaper than gas guzzlers. Some are already reaching 265 miles on a single charge.

With battery prices plummeting and charging stations set to multiply, one company stands out as the #1 stock to buy according to Zacks research.

It's not the one you think.
Want the latest recommendations from Zacks Investment Research? Today, you can download 7 Best Stocks for the Next 30 Days.
Click to get this free report
Phillips 66 (PSX): Free Stock Analysis Report
To read this article on Zacks.com click here.
Zacks Investment Research