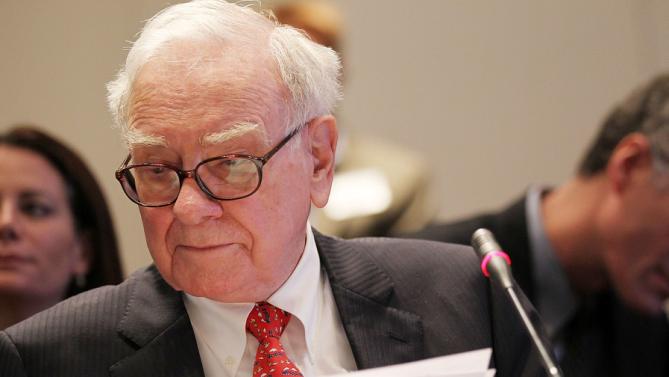 Wall Street analysts are paid lots of money to undertake the challenging task of figuring out what a company is worth. Most focus on one industry and cover the companies in it.
Few companies, however, are harder to value than Berkshire Hathaway (BRK-A) (BRK-B), the $360 billion multi-faceted, conglomerate run by billionaire Warren Buffett. Considered an insurance company, Berkshire Hathaway also owns a railroad, an energy company, a battery company, and even a candy company.
Not only is the company massive, it doesn't hold earnings conference calls nor does it hold regular investor meetings.
Yahoo Finance spoke with Cliff Gallant, Barclays' Jay Gelb, and KBW's Meyer Shields – all three insurance industry analysts – to see just what it's like to cover Berkshire Hathaway.
Note: Yahoo Finance spoke to Gallant before it was reported that he was no longer with Nomura.
Berkshire analysts agree that it takes a team

"It's a wide breadth of coverage areas. And these aren't small companies - they're big players. You have to employ somewhat of a team approach. Our rail expert helps a lot."— Gallant
"We start with expertise in insurance, but of course that's only about 20% of the business. We have to learn, understand, and be able to model what we think the rest of the business will do." — Gelb
"I can claim some familiarity with insurance, but investors deserve better insights than my own when it comes to Berkshire's other businesses. — Shields
Berkshire doesn't disclose much, so you listen whenever Buffett speaks
"It's hard to get a lot of detail behind the company that you would typically get from others. You get the 10-Q so you can update your model and can get a look at what's happening. But disclosure is relatively sparse." —Gallant
"The annual letter is a really important window into Buffett's thinking. And we have the annual meeting. In addition to that, Buffett is in the media pretty often. Anytime Buffett is speaking to the media, we're listening." — Gelb
"It's less a function of its operations' diversity, and much more a function of very stingy and frequently-changing reporting. The reporting is — I believe...
More