Alcoa Corporation AA just released its second quarter fiscal 2017 earnings results, posting earnings of $0.62 per share and revenue of $2.9 billion. Currently, Alcoa has a Zacks Rank #3 (Hold), and it is down 2.33% to $35.65 in after-hours trading shortly after its earnings report was released.
Alcoa:
Beats earnings estimates.The company posted earnings of 62 cents per share after excluding non-recurring items, beating our Zacks Consensus Estimate of 60 cents. Adjusted net income was $116 million for the quarter.
Beats revenue estimates.The company saw revenue figures of $2.9 billion, just beating our estimate of $2.89 billion, up 8% sequentially on higher shipments. Alcoa had a $954 million cash balance as of June 30, 2017.
Second quarter 2017 adjusted net income was lower than first quarter 2017 adjusted net income, which was $117 million, or $0.63 per share, excluding special items.
Alcoa reported adjusted EBITDA excluding special items of $483 million, down 9 percent from $533 million in first quarter 2017. The company reports that the decline was mainly due to lower alumina prices, which rebounded late in the quarter, and other factors.
Looking ahead, Alcoa now expects negative $50 million in net performance for full year 2017 as the strength of the global aluminum market raises input costs. The company also tightened its outlook for full-year adjusted 2017 EBITDA, excluding special items, to $2.1 to $2.2 billion, from $2.1 to $2.3 billion.
"We are pursuing a simple set of strategic priorities to reduce complexity, drive returns and strengthen the balance sheet, and we will continue to base each of our decisions on these three key levers for the benefit of our stockholders," said Roy Harvey, President and CEO.
Here's a graph that looks at Alcoa's price, consensus, and EPS surprise:
Alcoa Corp. Price, Consensus and EPS Surprise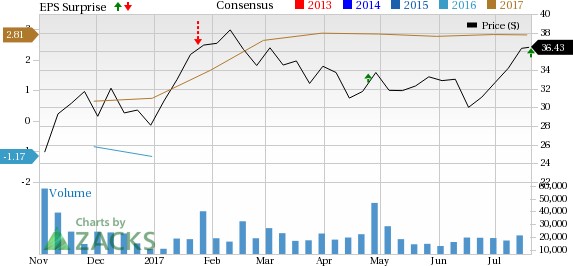 Alcoa Corp. Price, Consensus and EPS Surprise | Alcoa Corp. Quote
Alcoa is a global industry leader in bauxite, alumina and aluminum products.
Looking for Stocks with Skyrocketing Upside?
Zacks has just released a Special Report on the booming investment opportunities of legal marijuana.
Ignited by new referendums and legislation, this industry is expected to blast from an already robust $6.7 billion to $20.2 billion in 2021. Early investors stand to make a killing, but you have to be ready to act and know just where to look. See the pot trades we're targeting>>
Want the latest recommendations from Zacks Investment Research? Today, you can download 7 Best Stocks for the Next 30 Days.
Click to get this free report
Alcoa Corp. (AA): Free Stock Analysis Report
To read this article on Zacks.com click here.
Zacks Investment Research