After making a new closing high at 2453.46 on June 19 the S&P 500 Index began trending lower back toward the 50-day moving average where it rebounded enough after the nonfarm payroll report to speculate that support at the 50-day moving average held once again. Since the second quarter ended and earnings reporting will start soon it is time once again to update our Volatility Kings ™ list of companies having a regular tendency to experience increasing option implied volatility as their quarterly reporting dates approach. A more detailed market review will be featured again next week.
The degree of uncertainty for upcoming reports may not be comparable to previous quarters. Indeed, some companies are on the list one quarter and not the next while others seem to remain on our list quarter after quarter. Since the focus is on earnings, others with high-implied volatility due to takeover speculation or FDA announcements do not appear along with those lacking sufficient liquidity due to low option volume.
"Drilling down" into the options data begins by searching for stocks with prices greater than 5 since when prices are too low, there are usually not enough strike prices or liquidity for spreads or other strategies, with the possible exception of short puts that come with assignment risk.
Next, in order to focus on those with the best options volume and liquidity, both the weekly and month average volume requirement is greater than 20K contracts.
Volatility Kings™ 2Q 2017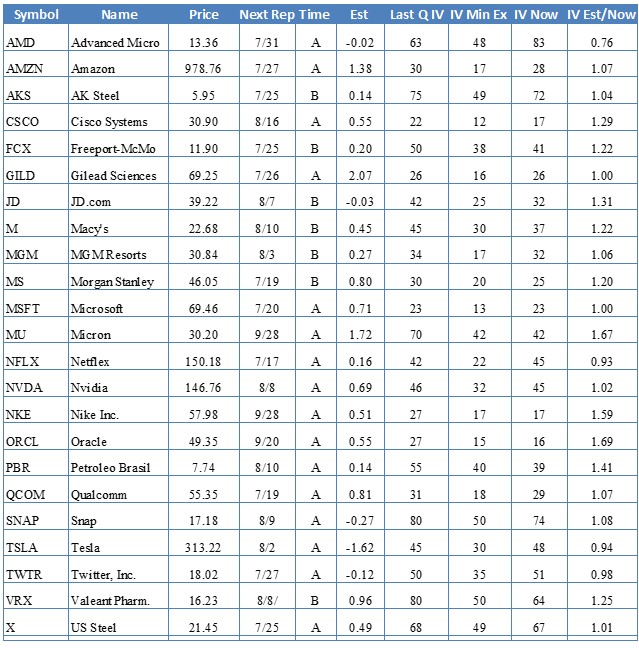 The volume requirement may result in inclusion one quarter but not the next. However, the objective is to find those stocks with sufficient options liquidity and therefore reasonable bid/ask spreads to use for various multiple leg strategies, such as Calendar Spreads, Butterflies, Iron Condors and others.
The volume search begins at the "Top 200 stocks by volume / open interest" link on the left side of the "Rankers and Scanner" section about two-thirds of the way down our home page where we feature a complimentary ranker sample of the top 200 stocks and ETFs by Options volume and Options open interest displaying weekly averages.
Disclaimer: IVolatility.com is not a registered investment adviser and does not offer personalized advice specific to the needs and risk profiles of its readers.Nothing contained in this letter ...
Then the Implied Volatility differential from last quarters' earnings announcement high to the subsequent after reporting low needs to be greater than 10%, occurring regularly with some flexibility on the regularly occurring requirement as it may vary due to market conditions and...
More