While the massive, $19.2 billion outflow in the week of the August 24 flash crash was understandable, as the market's record complacency was shaken by days of violent selling, as was the snap rebound inflow of $5.8 billion the following week resulting from oversold conditions, the fact that EPFR reported that in the week ended September 9 equity outflows once again surged, rising to a total of $19.4 billion - greater than two weeks prior, and the largest of 2015 - will cast doubt that the recent market correction is a one and done event, especially if the selling becomes a self-fulfilling prophecy.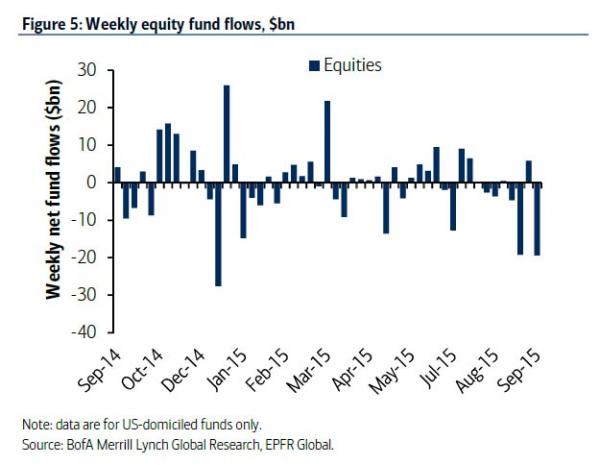 This brings the total 4 week outflow to a massive $46 billion, with Bank of America adding that "stock outflows very large in 3 out of past 4 weeks, in stark contrast to relative calm in credit (e.g. modest vol pick-up and no contagious selling in HY/EM debt)."
The breakdown of the selling was as follows:
EM: $4.5bn outflows (9 straight weeks)
US: $15.9bn outflows ($13bn outflows via ETFs)
Europe: $0.8bn inflows (inflows in 16 out of past 17 weeks)
Japan: $1.8bn inflows (inflows in 27 out of past 29 weeks)
On a year to date basis, there has now been a total of $7.6 billion in equity outflows for 2015, driven by $109 billion in mutual fund selling offset by $101.5 billion in ETF inflows, most of which however can be attributed to short hedging.
By sector: REITs see largest outflows since Dec'13 ($1.2bn); financials one of only sectors to eke out inflows ($0.2bn)
Which again leads us to the topic of the great unrotation: "Flight-to-quality in fixed income: 10 straight weeks of inflows to Govt/Tsy bond funds… longest inflow streak in 4 years."
But while domestic equities have again fallen out of favor with investors, it was emerging markets that were hit the most: there has been $58 billion in EM outflows vs $142bn in EU/JP inflows YTD.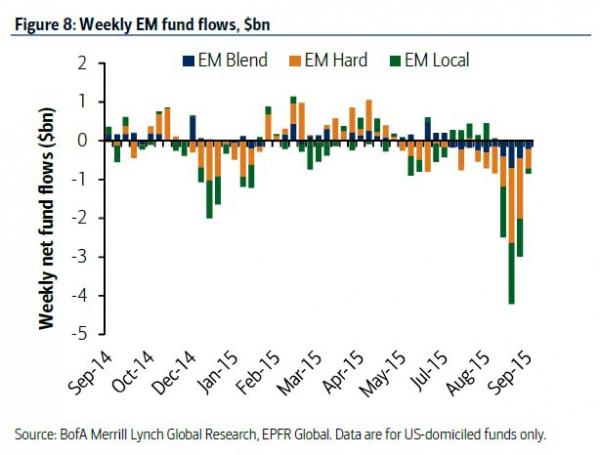 The focus was Brazil, whose downgrade comes at a time when LatAm had one of biggest fund outflows stories this year, with outflows annualizing 22% of AUM.
According to BofA divergence is explained by "market belief in stronger dollar and weaker China; the result - the past 4 weeks of outflows = 3.3% of AUM, biggest in more than 9 years."
And while massive equity outflows are a traditionally bullish signal, what isn't is the dramatic slowdown in Investment Grafe indlows as shown on the chart below.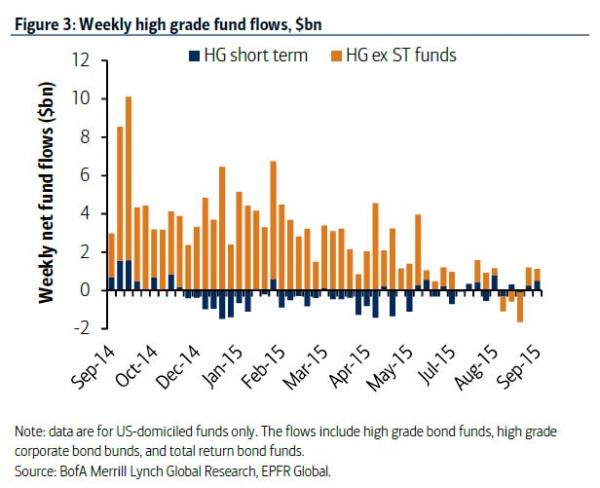 As a reminer, without cheap debt, corporations can not buy back their stock, which puts a damper on the question of who will be the marginal buyer in the near future. Unless this category sees substantial inflows in the coming weeks, the record spree of corporate buybacks may be put on indefinite hiatus.
Finally, putting all major outflow categories over the past 7 years in context: