WTI Crude Oil prices have fallen about 7% since rising to 107.50 in June. It now rests around 100.50 to start the week. If you have been following oil prices, you have seen the tension in Iraq add premium risk into oil's price. That was the rally to 107.50. Now, since supply has not been interrupted and is expected to grow, oil prices have fallen sharply. WTI Crude has been gravitating toward the psychological level of 100.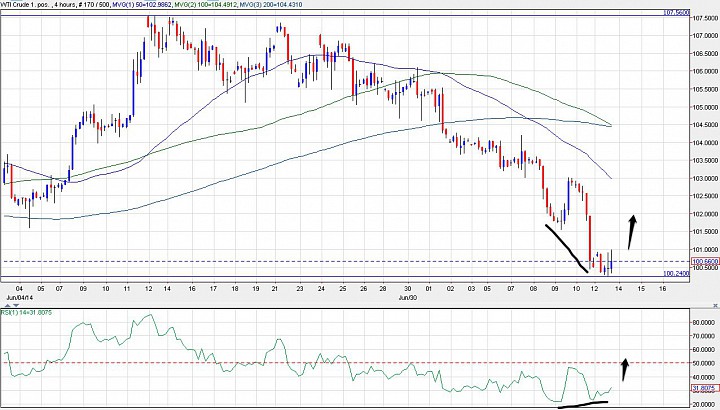 (WTI Crude Oil 7/14)
In the 4H chart, we are seeing price develop a bullish divergence with the RSI. (lower price lows, higher RSI lows). This suggests the bearish momentum could be slowing down, and suggests some consolidation/correction against the 107.56-100.24 dip. 
The 4H chart shows a strong bearish reversal of June's price, so if there is a pullback, watch out for sellers even below the previous resistance pivot of 103. If the 4H RSI approaches 60, price approaches 103, and both stop going up, get ready for another bearish swing at least to challenge 100.
Janet Yellen will speak Tuesday and Wednesday in her semi-annual address to congress. If she hints that the bank is not waiting until after mid-2015, and expects a rate cut earlier in the year, than we can see some USD strength, and WTI Crude will have a tough time rallying off the current bullish divergence. 
Otherwise, if Yellen navigates questions without clear market signals, we should look for Oil to continue consolidating.
If however, Yellen is dovish, and pushes the rate hike outlook to after mid-2015, USD can weaken, and WTI Crude might challenge that 103 pivot with upside risk toward 105 if 103 breaks.