Back in mid-April, we posted about Why You Should Be Long The Long Bond. Back then, we noted the extreme pessimism regarding US Treasuries (aka Long Bonds) due to skewed short positions and anecdotal evidence that too many were confident yields would go higher. This long bond pessimism, and more importantly, the price action of Long Duration Treasuries (ticker: TLT), had us more than just liking long bonds. In fact, we became rather obnoxious about them on
https://twitter.com/360research
: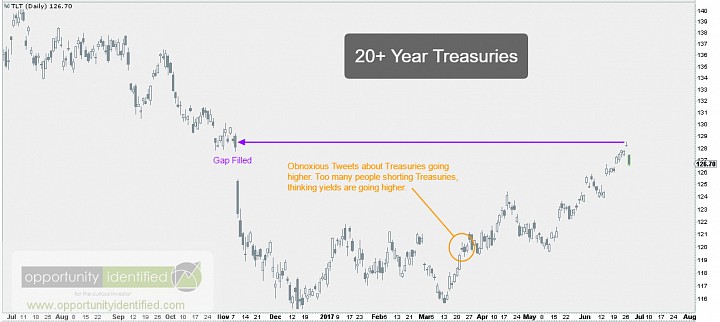 A little over 2 months and +7% later, and we're back writing about long bonds. Why? Not because we love bonds so much. Rather, if you've been long the long bond since our Tweets and subsequent post, we think it might be time to take some of those gains off the table. In our April post, we wrote:
The longer demand pushes and holds TLT above 122, the more likely we revisit the gap breakdown near 129.
Yesterday, TLT quickly reacted to the high of 128.57. Close enough fro us. There is a reason for using price targets. These measured moves define our potential reward when determining whether a trade opportunity exists. What's our risk? What's...
More