Zimmer Biomet Holdings, Inc. ZBH reported third-quarter 2017 adjusted earnings per share (EPS) of $1.72, up 3.9% year over year. Adjusted earnings also missed the Zacks Consensus Estimate by 2 cents. Reportedly, net earnings came in at 48 cents per share, marking a 38.5% slash from the year-ago figure.
Revenue Details
Zimmer Biomet's third-quarter net revenues came in at $1.82 billion, marking a 0.8% drop (down 1.2% at constant exchange rate or CER) year over year. The recently included LDR Holding contributed 30 basis points (bps) to the top line. Excluding the contribution from LDR Holding in the quarter, revenues declined 1.1% (down 1.5% at CER) year over year. Revenues, however, remained in line with the Zacks Consensus Estimate.
Zimmer Biomet Holdings, Inc. Price, Consensus and EPS Surprise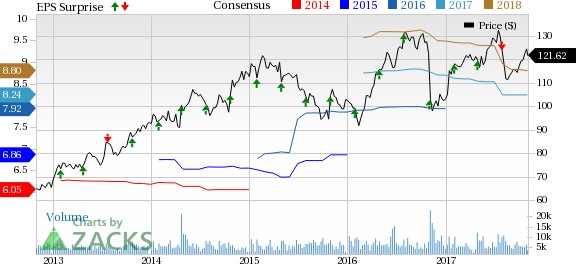 Zimmer Biomet Holdings, Inc. Price, Consensus and EPS Surprise | Zimmer Biomet Holdings, Inc. Quote
Revenues generated in the Americas during the quarter were $1.14 billion (down 3% year over year at CER) while the same in EMEA (Europe, the Middle East and Africa) grossed $381 million (down 0.4%). Asia-Pacific, however, registered a 5.2% growth at CER to reach $295 million.
Segments
Revenues derived from Knees were down 1.7% year over year at CER to $624 million. Hips too recorded a 1.7% decline at CER from the prior-year quarter to $434 million. Revenues from S.E.T. (Surgical, Sports Medicine, Foot and Ankle, Extremities and Trauma) were up 1.1% year over year to $407 million.
Among the other segments, Spine & CMF recorded a marginal improvement of 0.3% at CER to $185 million while Dental was down 4.4% to $93 million in the quarter. Other revenues dropped 5.3% to $75 million.
Margins
A dismal topline performance along with a 4.5% rise in cost of products sold (to $500.9 million) resulted in gross margin contraction in the third quarter. Zimmer Biomet's gross margin deteriorated 140 bps to 72.4% in the quarter. Selling, general and administrative expenses were down 4.6% to $694.5 million. Research and development expenses also declined 4.6% to $91.2 million. Accordingly, adjusted operating margin expanded 30 bps to 29.2% during the quarter.
Cash Position
Zimmer Biomet exited the third quarter with cash and cash equivalents of $480.8 million, as compared to $450 million as of the second-quarter end. Total long-term debt was $10.4 billion compared with $10.7 billion at the end of the second quarter.
Year to date, operating cash flow was $1.18 billion compared with $1.01 billion in the year-ago period. The company also paid $48.5 million in dividends during the third quarter.
2017 Outlook
Based on a dull topline show, Zimmer Biomet has lowered its full-year 2017 guidance. The company currently expects to register revenue in the range of $7.76 billion–$7.80 billion representing growth at CER in the range of 0.9–1.4% (earlier prediction was growth of 1.8–2.7%). This includes a contribution of approximately 120 bps from the LDR transaction. The current Zacks Consensus Estimate for revenues is pegged at $7.84 billion, above the guided range.
The adjusted EPS expectation has been forecast within the range of $8.01-$8.07, lower than the earlier range of $8.20–$8.30 for the year. The current Zacks Consensus Estimate for 2017 EPS is pegged at $8.24, much ahead of the current guidance.
For the fourth quarter, the company expects revenue in the range of $2.01 billion–$2.05 billion, representing growth of negative 1.8% to positive 0.2% year over year at CER. Additionally, adjusted EPS for the fourth quarter is expected to be in the range of $2.08–$2.14.
Our Take
Zimmer Biomet ended the quarter on a dismal note. While earnings remained below the Zacks Consensus Estimate, revenues were marginally in line with the same. We are disappointed by the company's declining sales performance within most of its core segments. According to the company, the challenging top-line result was due to the pace of supply recovery of certain key brands, softened domestic market conditions and slower than anticipated sales recapture, particularly in the United States. The lowered 2017 guidance also added to our concerns indicating little chances of recovery ahead.
However, we look forward to the ongoing synergy from the LDR Holding acquisition, which should broaden and complement the company's musculoskeletal offering. We are also impressed by the strong strategic and financial goals which the combined entity expects to reach.
Zacks Rank & Key Picks
Zimmer Biomet has a Zacks Rank #3 (Hold).
A few better-ranked stocks in the broader medical sector are PetMed Express, Inc. PETS, Luminex Corporation LMNX and Intuitive Surgical, Inc. ISRG. Notably, PetMed and Luminex sport a Zacks Rank #1 (Strong Buy), while Intuitive Surgical carries a Zacks Rank #2 (Buy). You can see the complete list of today's Zacks #1 Rank stocks here.
PetMed reported earnings per share of 43 cents for the second quarter of fiscal 2018, up 79.2% from the year-ago quarter's 24 cents. Also, gross margin expanded 548 bps year over year to 35.2% in the reported quarter.
Luminex reported adjusted earnings per share of 19 cents in the third quarter of 2017, up 216.7% year over year. The company's revenues in the quarter increased almost 4.1% year over year to $74.1 million.
Intuitive Surgical posted adjusted earnings of $2.77 per share in the third quarter of 2017, up 34.5% on a year-over-year basis. Also, revenues increased 18% year over year to $806.1 million.
More Stock News: This Is Bigger than the iPhone!
It could become the mother of all technological revolutions. Apple sold a mere 1 billion iPhones in 10 years but a new breakthrough is expected to generate more than 27 billion devices in just 3 years, creating a $1.7 trillion market.
Zacks has just released a Special Report that spotlights this fast-emerging phenomenon and 6 tickers for taking advantage of it. If you don't buy now, you may kick yourself in 2020.

Click here for the 6 trades >>
Want the latest recommendations from Zacks Investment Research? Today, you can download 7 Best Stocks for the Next 30 Days.
Click to get this free report
PetMed Express, Inc. (PETS): Free Stock Analysis Report
Intuitive Surgical, Inc. (ISRG): Free Stock Analysis Report
Luminex Corporation (LMNX): Free Stock Analysis Report
Zimmer Biomet Holdings, Inc. (ZBH): Free Stock Analysis Report
To read this article on Zacks.com click here.
Zacks Investment Research